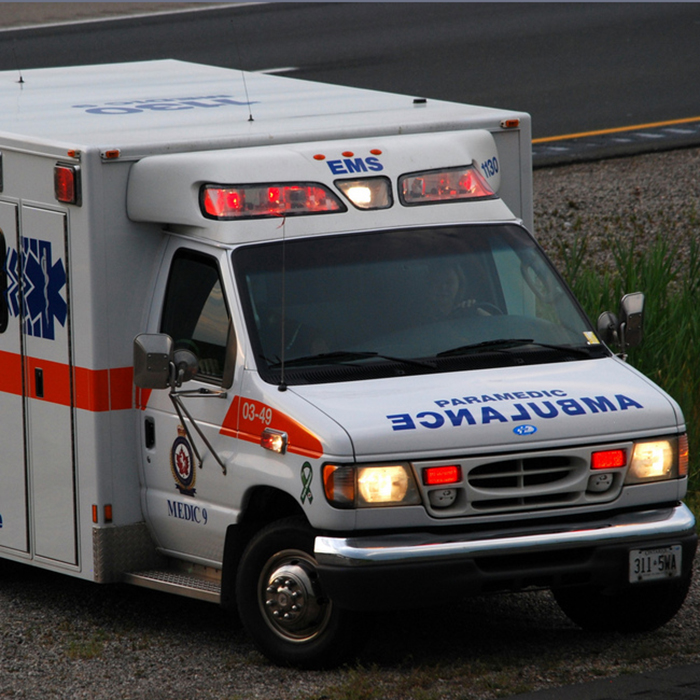 Sir: Every time I tell someone what I do for a living I get the inevitable "What's the worst thing you've seen?" And every time I have to relive a bunch of horrible moments I was witness to. Why? Because I can't choose.
Was it the time I had to pull a dead child from his mother's arms in order to perform CPR?
Maybe it was the time I had to tell an elderly man that the love of his life has died. Yes, died. I have to use that terrible word. I can't tell him she passed away or is gone or is with God now.
We are taught to use the word "dead" or "died" in order to not confuse an already emotional situation.
Or was it the time I had to look a family friend in the eye and tell him how vital it was he get to the hospital to see his father, without telling him why? Patient confidentiality and all.
Or maybe it's the calls I do day in and day out in nursing homes. Paying witness to the forgotten. Men and women lining the hallways hoping that today is the day someone remembers them.
Or the blank stare on the driver's face as he sat patiently waiting for his legs to be freed from the wreckage?
Or the time I watched the spirit drain from that young man's eyes as his friend's dead body was being hauled off on a stretcher, and he realizes this is his fault.
Or the man swinging by his neck from his garage rafters?
Or the time I had to determine if I was looking at brain matter or clotted blood?
This is only a handful of a thousand stories we as Chatham-Kent paramedics have witnessed. But that's not the worst of it.
Then there is the not-so horrifying. How about the time I was attending to a child in the back of my unit and was struck by a car that did not heed the lights and sirens? I was in the hospital for longer than my patient.
Or that time I had to spend two hours cleaning the blood from the back of my truck from a head injury?
Or dodging blood from the rag the intoxicated man was swinging around?
Then there was that time a drug addict kept spitting at me. Fun times. I still don't know what diseases he tested positive for. Again, patient confidentiality. Yet, still not the worst of it.
Being disrespected daily from patients who abuse the health system. Those that are under the impression that if they call the ambulance for splinters and paper cuts that they can get a bed sooner.
Or the patient who is yelling at you that he pays your wages and is badgering you to do your job his way.
Or being called to the same house almost daily for a patient who verbally abuses you because he thinks it's his right.
Or being called an "ambulance driver" and treated like a taxi despite your college degree and medical interventions. Again, not the worst of it.
How about missing the birth of my nephew because I was working that holiday Monday?
Or not being able to attend my daughter's dance recital because I had a late call.
Or having to call my grandmother to tell her I can't make it to grandpa's funeral because I have a mandatory test.
Or missing Christmas, yet again, because someone has to work the holidays.
Or maybe it's being told you are "emotionally unavailable" because you've learned how not to get personally involved.
How about being told you are "cold hearted" because you've learned not to be affected by what you see or feel?
Or not being able to talk to friends and family about a call that's really bothering you? There's that patient confidentiality again. Then there's the physical aspect.
"No, kiddo I can't push you on the swing, I hurt my back lifting" a guy who was faking back pain so he could get his hands on some narcotics.
Or having to quit physical activities you love because your knees just can't handle it anymore from carrying 75 pounds of essential equipment up and down countless stairs. Nope. Still not the worst of it.
The worst of it? Being disregarded. Not being appreciated. Being made to feel irrelevant. Being treated as though we are replaceable. By those who are suppose to protect and guide us, by those who manage us and lead us, by those who are supposed to have the citizens' best interest at heart.
Being treated as though what we do daily is not important. Our value being determined by a dollar amount.
By those making us beg to be seen and heard and explain why and how we make a difference.
Listening to the paramedic "chief" say he can't discuss his plan for the future of your paramedics.
Paramedics have always taken a back seat to other emergency services, and we've always been content not being in the spotlight. We don't see ourselves as heroes, nor do we want to. Because being recognized is not important to us, our patients are.
But to be disregarded? Now that, that's the worst of it.
We are not replaceable. We council each other, advise each other, use each other as soundboards. We trust each other with our safety, in each other's knowledge and ability to do the task at hand. We vent, we laugh, we share, we eat, we drink, we celebrate and we mourn together.
My fellow paramedics are not replaceable.
Yes, we signed up for this. Yes, we knew what we were getting ourselves into. We knew we would see the good, the bad and the ugly. We knew we were going to sacrifice our families, our bodies and our sanity.
Yes, we love it. And no, not one of us would have done it differently. Why? Because we were made for this. We carry those burdens, those scars with pride. And when it gets too heavy, we hold each other up. We are each other's family, friends, confidants. We are partners.
This is not our job. This is our calling. This is not what we do. This is who we are.
We are paramedics.
Belinda Keith
Chatham-Kent