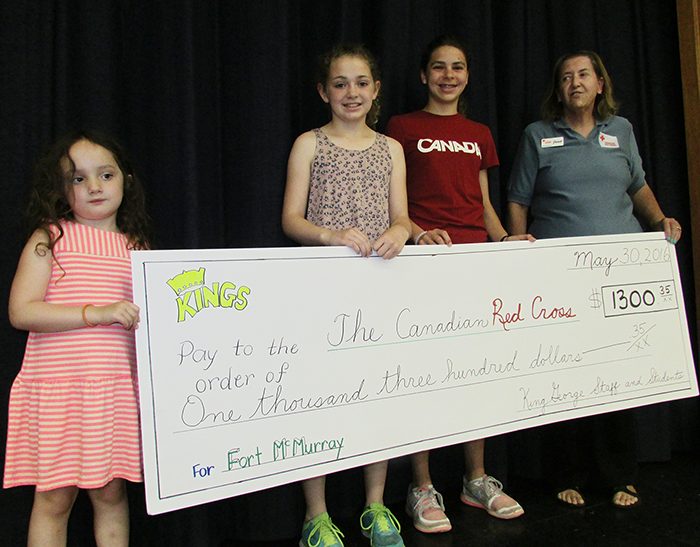 Students, staff and parents at King George Public School in Chatham showed their big hearts Monday, raising funds for the Canadian Red Cross and the victims of the fire that devastated the community of Fort McMurray, Alta.
According to Grade 1 teacher Shawne Wilton, the primary, junior and intermediate students took turns running fundraisers to help out the cause. Over $800 was made with the primary grade's bake sale, $300 with the junior grades selling tickets to chew gum, sit with friends and listen to music and another $300 was collected by the Firefighters versus Grade 8's baseball game. A total of $1,300. 35 was raised.
"It started like a seed and blossomed into all this money we are donating to the Canadian Red Cross," Wilton told students during an assembly Monday. "Doesn't it feel good to help others?"
"We teach kids about community and to look after each other and everyone pulled together; students, staff and parents were all bringing something in," Wilton added. "We're a small school (329 students) and to see how much everyone pulled together really warms my heart."
Janet Brunschot, representing the Canadian Red Cross was at the assembly to accept a cheque from the student body and thanked them for their generosity.
"On behalf of the Red Cross, I want to thank you. What an awesome outpouring of caring from this school. I applaud you," Brunschot told the students to loud cheering.
Comments
comments