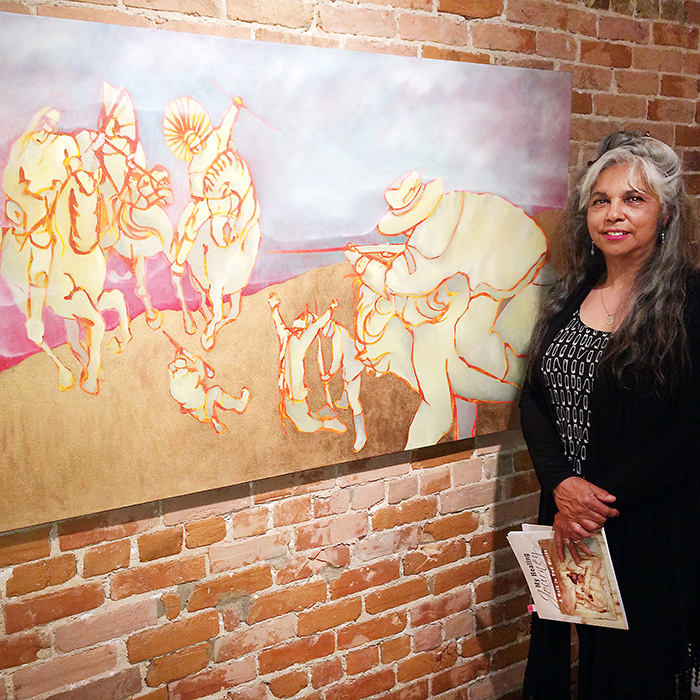 Special to The Chatham Voice: Raquel Sa
Art enthusiasts filled the ARTspace gallery May 19 at the opening reception of Darla Fisher-Odjig's solo exhibition, Cowboys & Indians.
Fisher was born in Sault Ste. Marie of Odawa, Ojibwa and Pottawatomi lineage.
Even from a young age, Fisher already had negative thoughts about herself and her native culture. She knew that the Indian would always lose when playing Cowboys and Indians. She wanted to be the cowboy.
Fisher published My Healing Journey: A Walk in Two Worlds, in 2009, a book made up of journals that she has accumulated over the course of 15 years. Her journals guided the process of creating her paintings.
Beside each painting hangs one of the journals from the book.
"The process of painting from My Healing Journey was very therapeutic for me and I have a very deep and personal connection with each painting," said Fisher.
Cowboys & Indians is 1958 frozen in time, an honest remembrance of a First Nations child growing up off reserve, in a "not-so-politically correct" society.
The paintings were of empathy and perseverance, depicting images that address the sociological effects of life off the reserve.
Fisher painted with bright colours and depicted sad emotions to create a polarized idea in her work.
The artist worked on the four paintings and one installation for a year, some being finished in a month's time.
As a young child, Fisher painted with what was available to her – wooden boards as canvas and her father's house paints. Now, she is participating in numerous solo and group shows in major cities across Canada, winning awards along the way and donating her work to raise funds for charities.
The exhibition will run at ARTspace until June 25. There is also printmaking featured in the front window display done by Visual Arts students from Chatham-Kent Secondary School.