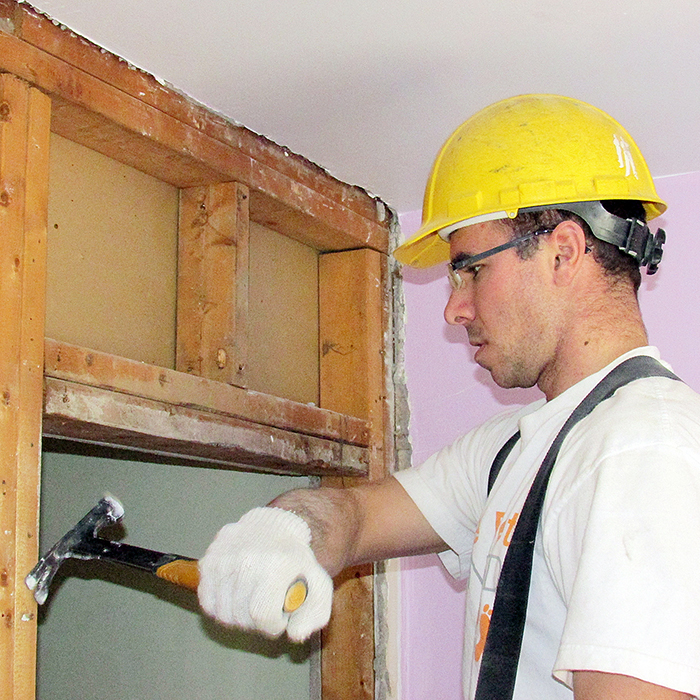 Members of the Chatham-Kent Home Builders Association (CKHMA) began a labour of love Monday as they started renovating a house for a nine-year-old girl who wasn't supposed to be coming home to use it.
The "Renovation for Evelynn" project got underway as builders are working on a two-week deadline for Evelynn Nichols, who has a tentative March 24 release date from Holland Bloorview Children's Rehabilitation Hospital in Toronto.
Evelynn was found unconscious in her room last Sept 5. After being rushed to hospital in Chatham she was flown to Toronto Sick Kids Hospital.
She was found to have suffered a stroke as the result of a rare congenital defect. Extensive bleeding in her brain meant severe brain damage.
She was given only a five per cent chance of survival and remained in a coma and on life support for several weeks.
Doctors were predicting severe paralysis and believed she wouldn't be able to breath or speak without assistance.
The Home Builders stepped in to widen hallways and doors, install a wheelchair ramp and make the home comfortable for Evelynn.
CKHMA president Scott Vandersluis of Bouma Builders said an appeal from Evelynn's grandmother got his group involved.
"The things that needed to be done are the things our members are good at," he said. "The more we spoke about it, the more we knew we could make it work."
Evelynn's grandfather Girard Pigeon said he couldn't begin to thank the builders.
"This is such an amazing thing they're doing," he said. "It's heart-warming to see people who care about others so much."
Pigeon said Evelynn's recovery has been miraculous.
"She's speaking some now and progressed further than they ever expected," he said. "She was in French immersion and she's kept her knowledge of French. She can use the computer better with one hand than I can with two. She has all of her ability to learn."
He said she still faces extensive therapy.
Chatham Mazda from Chatham Voice on Vimeo.
"The important thing is that she keeps going. We're not putting any limitations on what she can and can't accomplish."
The Chatham­-Kent Home Builders Association is a not-for-profit organization that was chartered in Chatham over 50 years ago.
Membership is comprised mostly of local businesses related to the new home construction industry who have contributed over $400,000 to support local needs.
Scott Vandersluis of Bouma Builders was elected president of the association recently. The board also includes Vice President Dave Depencier of Depencier Builders, 2nd Vice President Jon Rumble of Rumble Homes, Treasurer Ed DeJonge of Ed DeJonge Construction, Secretary Gina Mancini of Union Gas, Directors Dave Ewald of Ewald Homes, Jeff Medeiros of Winmar, James McKeller of Oldershaw Builder Supply, Mike Dziedzic and Executive Officer Kevin Owen of Owen Flooring.
Comments
comments