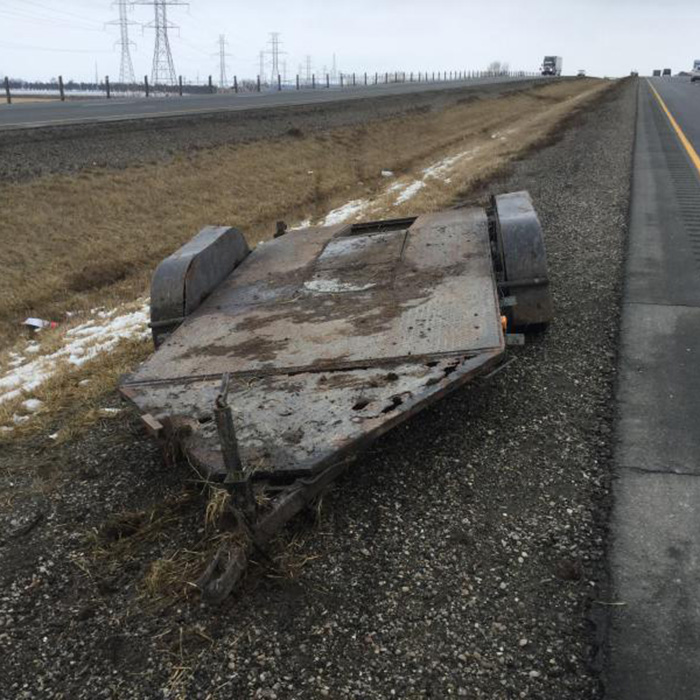 A sudden spray of dirt and moisture was the first sign that a runaway flatbed trailer was careening across the Highway 401 median and heading toward oncoming traffic Saturday afternoon.
"I noticed from about 150 metres away that something had entered the median," said OPP Acting Sgt. Chris Hogg, who was travelling eastbound near Communication Road shortly after noon.
The trailer had come loose from a pickup truck in the westbound lane and was moving back and forth in the centre of the highway.
Chatham Mazda from Chatham Voice on Vimeo.
"It was an unmanned projectile," he said. "I took a look in the rearview mirror and saw there was fairly heavy traffic, and when I looked back, there was no doubt the trailer was heading into the westbound lanes. I thought there was no way I could let that happen."
Hogg aimed his cruiser at the trailer and put his vehicle into neutral just before the collision.
"It had probably slowed to about 15 kilometers per hour when it hit me," he said.
Hogg, who wasn't injured, shuddered at the thought of what might have happened had the trailer entered the eastbound lanes.
"Most drivers don't look far enough ahead and with the low profile of the trailer it's quite possible it wouldn't have been seen in time," he said.
He said drivers taking evasive action would have run the risk of a rollover if they swerved or being rear-ended if they stopped suddenly.
"At 100 kilometres per hour, it doesn't take a whole lot of input from a driver to send a car into a roll," he said. "A sudden evasive jerk on a steering wheel could do it and result in a multi-vehicle collision."
The six-year veteran of the OPP said he didn't do anything any differently than any other member of the OPP would have done.
"Anybody else I work with would have done the same," he said.
Hogg said the incident is evidence of why commercial vehicle safety inspections and enforcement is critical.
"Safety issues such as this need to be discovered in pre-trip inspections and maintenance," he said. "We don't want to find out in this way that there is a problem."
The provincial Ministry of Transportation attended the scene and has assumed the investigation.
Charges are pending.
Comments
comments