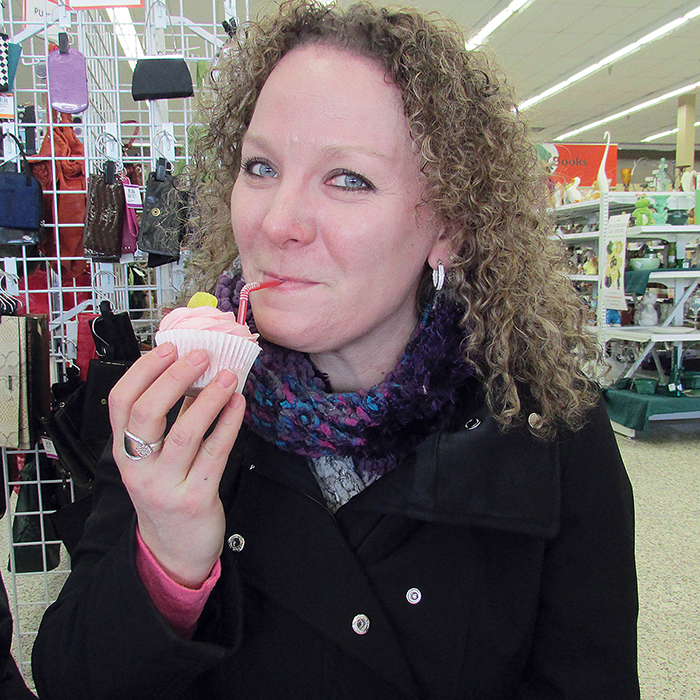 I've had a few dream assignments over my career as a journalist. I've interviewed rock stars, premiers, prime ministers and sports legends. I've been tasked to drink beer to help police officers hone their Breathalyzer skills.
I've now added another notch in the assignment belt – cupcake judge.
When Robyn Brady of the OSPCA asked me if I wanted lend my taste buds to a cupcake bake-off, how could I refuse?
It turns out, this was no easy task.
Off I went Saturday morning to Value Village, host of the bake-off. Staff from the store, plus folks who work at local vet clinics, and area Girl Guides had baked up a storm. Nearly two-dozen contributors and more than 500 colourful cupcakes were involved.
We judges – Jaclyn Gillier from the Downtown Chatham Centre, Jenn Knights from Chatham-Kent Veterinary Hospital, Chris Taylor from Cogeco and CKXS, Mike James from Blackburn Radio, and myself – faced the thought of having to taste a cupcake from each competitor. That was daunting, until Robyn explained we were to choose the top 10 cupcakes based on appearance, and then cut each cupcake up into fifths for us to taste in order to come up with the top three.
Whew. Mike and I didn't eat breakfast in preparation, but the idea of trying that many cupcakes was a bit scary.
So, the task seemed simple enough, right? Wrong. I'm used to cute homemade cupcakes with some icing spread on top. I don't think any of these were that simple. The competitors went all out. We had Cookie Monster, campfire, strawberry milkshake, Snickers, barbecue, bacon and a host of other types of cupcakes.
Some had flavourful treats in the middle to go with decorative tops.
And every cupcake we tasted was delicious.
Chatham Mazda from Chatham Voice on Vimeo.
The trouble was choosing the winners. Getting from 22 to the best-looking 10 wasn't easy. Getting from 10 to three, rated for taste, was even harder.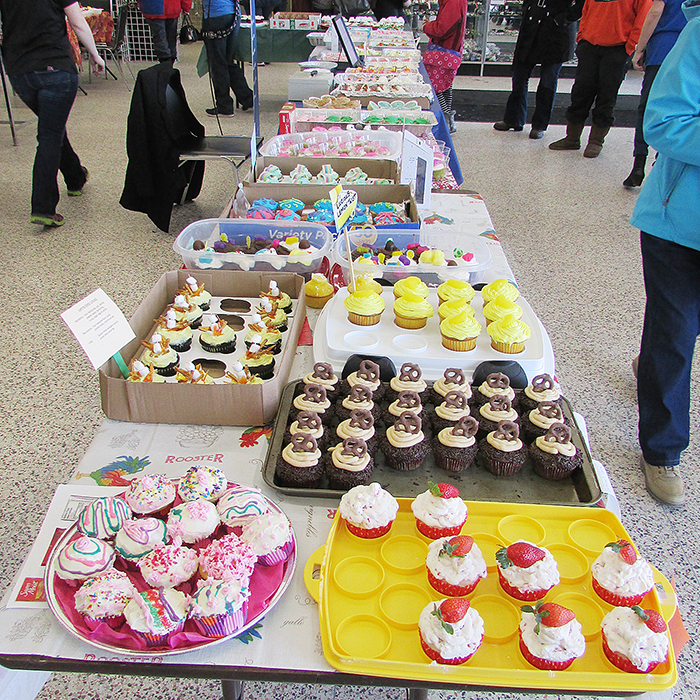 When the smoke cleared and we'd agreed on the top three cupcakes – chocolate pretzel, Snickers and campfire #2 finished one through three respectively – we kind of just looked at each other, and the crumbs littering our judging table.
Mike at the end of the table looked as if he'd been in a cupcake-eating contest. Being the last in line as Jaclyn cut the cupcakes and handed out pieces, he had all the foil and wax paper from each cupcake in a pile in front of him. I wouldn't have been surprised if he just laid his head on the table and let the sugar envelop him for a while.
Jenn got up to coach girls' hockey, wondering if a cup of coffee would help kill the sugar buzz or turn her into part Mike Keenan, part angry hockey mom – a team's worst nightmare. Regardless, if the sugar was still circulating by game time, I have a feeling her players had no trouble hearing her instructions and encouragement from across the ice.
I felt quite full, as if I'd consumed four times as many cupcakes as we actually did. When you think about it, we all ate the equivalent of two cupcakes, but it felt like so much more. Then again, these were very rich, special cupcakes. And I had a sugar buzz to go with the fullness.
Chris and Jaclyn didn't seem any the worse for wear. In fact, I think they just kick-started their days with the sugar rush.
But after all the consuming, I knew my job wasn't complete. There was no way I could go home to my daughter empty handed. It would have been unacceptable to not support a great cause and deliver some homemade yumminess to a teenager with a sweet tooth.
There were two problems. I'd just had more than my fill, so I would have to choose the treats without much passion. It's kind of like going grocery shopping while full – smart, but you don't wind up as emotionally tied to the food.
Second, I forgot to stop at the bank on the way to the judging, as I had a prior assignment.
Jaclyn offered to cover me – very kind – but an ATM was just across the street, so out and back I went. Naturally, my return got me an odd look or two from the volunteers, but I explained my predicament, and the mothers and daughters on hand fully understood.
I arrived home with the treasures, and was greeted by a big smile. It turned out my kid was off to a friend's place. I urged her to take the cupcakes with her. Naturally, she didn't refuse. Brenna also had to try one before making her exit.
I've added cupcake judge to my list of accomplishments. Now, all I have to do is weasel my way into the rib and sauce tasting competition at this year's RibFest . . .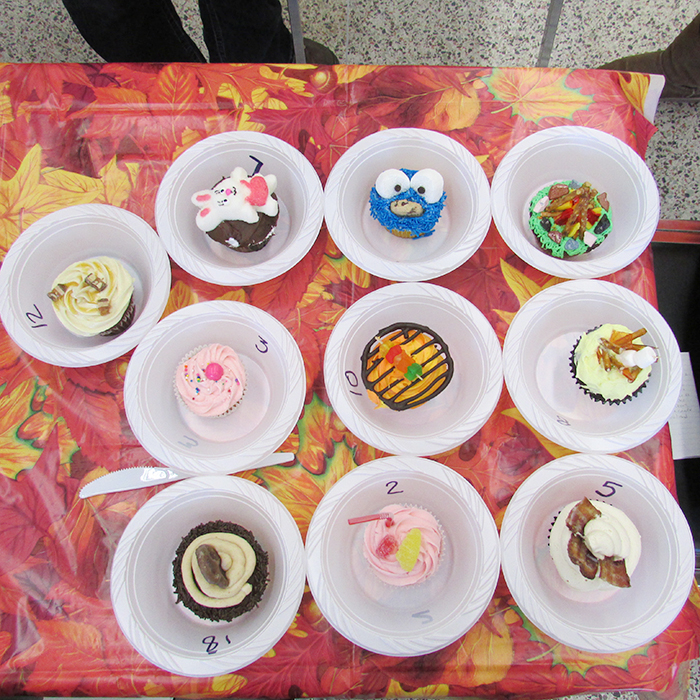 Comments
comments