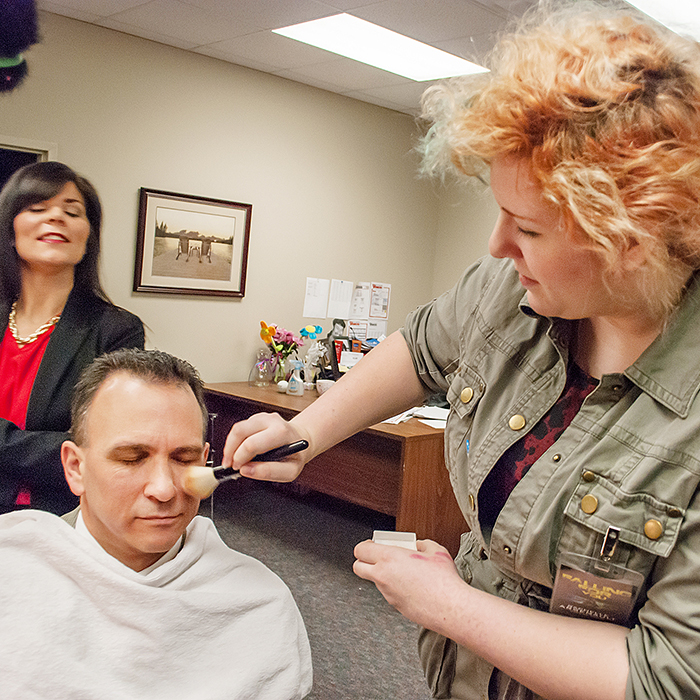 They may not be erecting a "Hollywood" sign anywhere in Chatham-Kent just yet but that doesn't mean the community's fledgling film making efforts are in vain.
Thamesville filmmaker Florin Marksteiner, who starred in Matthew Marshall's 2014 production of Daughter of the King, is putting the finishing touches on a short film entitled Falling for You.
"We're in production and I hope to have it out on Vimeo on demand by the middle of December," he said. "We were lucky that the weather held for our exterior shots into mid-November."
Falling for You is a story of a man at the brink, watching his life crumble around him when suddenly someone steps in and takes the fall for him.
Marksteiner's company, ProductionMark, is working with 12 Disciples, and C & S Marshall Productions.  The same group produced Daughter of the King, which won 13 awards including Best Narrative Feature at the Oregon International Film Awards and the Best Feature at the Los Angeles Independent Film Festival.
Prior to the movie being on demand, Marksteiner said there will be a free viewing period as a way of saying thank you to the community.
"Three years ago people didn't believe me when I said there was potential to begin a film industry locally but we're making it happen," he said. "People, especially young people, are embracing the idea.
"We have a tremendous amount of talent here. Look at Spamalot, look at West Side Story," he continued. "There are so many talented young people. All we need to do is encourage them. Our movie has an 18 year old from St. Thomas, a 16 year old from Chatham and a 15 year old from Wallaceburg. These kids are just going to get better."
He said the municipality should be recognizing the cachet and economic spin off that comes from film and doing everything it can to encourage it.
"We're not looking for money, we just want them to be aware of us, facilitate access to locations where they can and acknowledge us," he said. "We've had co-operation before and we will need more in the future."
A film brings attention and recognition to a community for years after the production is finished.
He said projects in the works include people from such diverse locations as New York, Michigan, Toronto and even Brazil.
"I'm getting asked frequently about shooting locations here," he said. "With the waterways, small town feel and agriculture, we have things that many places don't. We don't see them because they're right in front of our eyes but other people notice them."
He said local actors are good to work with because what some of them lack in experience they make up for in attitude.
"We have a saying that we leave the drama on the screen," he said. "When the camera stops, people have to get along. If we're not having fun, why are we doing this?"
The cast of Falling for You includes Jamie Rainbird, Cindy FitzGerald, Addison Colbourne, Sabrina Pierson, Christine Ellwood, James Mac Neil and Corey Chainey.
It is directed by Florin Marksteiner and produced by Matthew Marshall.