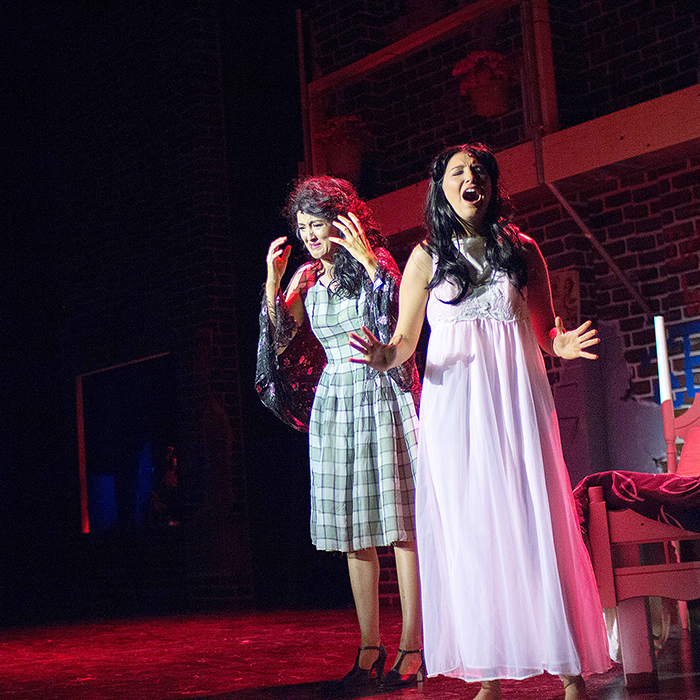 A modern Romeo and Juliet story came alive for more than a thousand people who turned out for Opposite Town's production of West Side Story
last weekend at the Capitol Theatre.
The legendary musical featured more than 50 local performers and crew under the direction of
Chatham Mazda from Chatham Voice on Vimeo.
Megan Whalen, a Chatham native who is now a professional singer and actress in Toronto, having starring roles in productions of The Sound of Music, Grease, A Funny Thing Happened on the Way to the Forum and Beauty and The Beast on her resume.
She is also appearing in the new musical Blood Ties, featured on the hit television series Orphan Black.
West Side Story continues its run with evening shows Thursday, Friday and Saturday at 8 p.m. and a Saturday matinee at 2 p.m. Tickets can be purchased at cktickets.com or by calling 519-354-8338.
Directing a cast that included local junior high and secondary students, adults, community theatre veterans and professionals stretched Whalen's directorial skills.
"It's part of a director's challenge to find the language that speaks to each actor and the role they are taking on," she said. "I have to find what motivates them, whether they may be a little nervous or unsure of their interpretation."
A standing ovation at the end of opening night proved that the weeks of rehearsal paid off.
"We've been rehearsing twice a week since September and a lot of that has been in dress rehearsal to help get everyone into character. I was very impressed with the work everyone put into the play, particularly the community members and students."
The show's producer Lesley Grand said her job was made easier due to the talent and professionalism of the cast and crew.
"Megan and Rachel (Schwarz, the production's musical director) are amazing to work with. Megan has tremendous experience and Rachel has performed around the world."
"The lighting, the music, the choreography were all handled very capably," she said. "I just had to take care of details and get the word out for publicity."
West Side Story was the third effort of Opposite Town Productions, founded in 2013 by Whalen and Rachel Schwarz who served as music director for the play.
"We did Legally Blonde – The Musical as a free training program for high school students and in the spring of this year we did Night of a Thousand Stars with an all aged local cast."
Whalen said she would love to be able to use the Capitol for a series of acting workshops and classes.
"There is so much talent in this community but we could always use an opportunity to help it grow, flourish and develop," she said.
Comments
comments