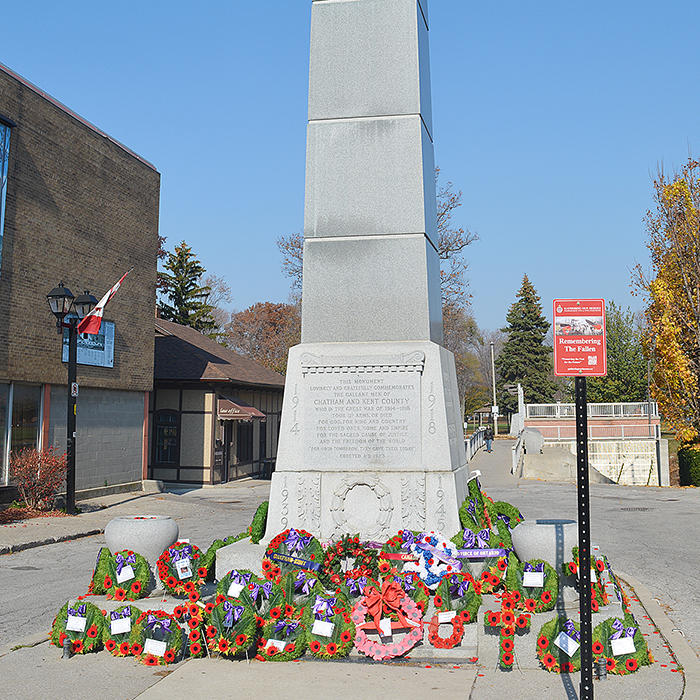 The federal government is urging Chatham-Kent to seek up to $25,000 in funding to correct a decades-old spelling mistake on the Chatham Cenotaph.
Readers of the Chatham Voice noticed the word remembrance spelled incorrectly after a photograph appeared in the October 8 edition of the paper to note the addition of Afghanistan to the memorial.
Chatham Mazda from Chatham Voice on Vimeo.
The resulting controversy made its way to Veteran Affairs Canada, an official of which contacted Chatham Councillor Michael Bondy who appeared in the photo and who spearheaded the addition of the mid-east conflict.
"I was contacted by the Commemoration Division of Veterans Affairs," Bondy said. "Apparently there are problems from time to time with monuments and the federal government is prepared to help. The offer came out of the blue, but it's certainly welcome."
Jenna Clark, a Program Officer with the division wrote "funding assistance may be obtained for up to 50% toward the costs of eligible restoration work, not exceeding a maximum of $25,000."
"I would certainly encourage you to apply for funding once it is determined how you would like to address the error on the Chatham-Kent Cenotaph," she continued.
"Also, if there is any additional work to be done, you may want to have this addressed at the same time (and cost-shared through the program)."
Bondy said he believes council needs help from the public and veterans regarding the cenotaph, and to re-examine what, if anything, may be used from the Canada 150 streetscape project plan.
"I personally don't know if we need to correct the spelling mistake from years ago," he said, "But we certainly could use some funds to spruce up the area right around the Cenotaph. It looks kind of decrepit."
"We should be able to get a sense of what people want and take it from there," he continued. "I believe there is the will to donate some money, especially since every dollar donated will be matched. It could be we have a very good ending to what started out as a controversial story."