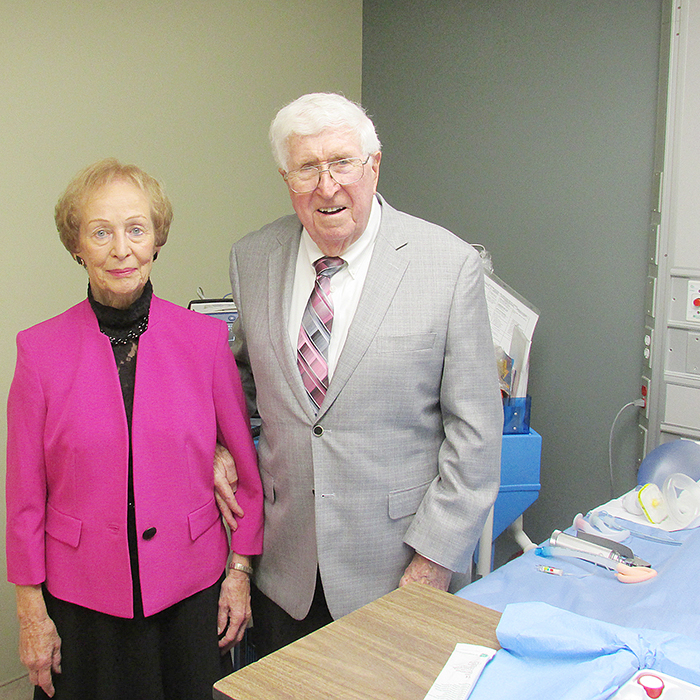 One of Chatham's most beloved doctors had his legacy commemorated and his commitment to training recognized with the official opening of the Dr. Don Patterson Learning Centre Oct. 15.
More than 50 people filled the centre's main room at the Chatham-Kent Health Alliance to pay tribute to Dr. Patterson's 50 plus years of practicing medicine in Chatham.
Chatham Mazda from Chatham Voice on Vimeo.
The learning centre reflects a "dream come true", Dr. Patterson said.
"Our learning centre was cramped to say the least," he said. "We knew we needed more space but since funds are always limited it kept getting put on the back burner."
That problem ended with a campaign through the Foundation of the CKHA that raised several hundred thousand dollars with major contributions coming from Keith and Karn Graham, The Schulich School of Medicine & Dentistry – Western University, Freedom 55 Financial, a division of London Life Insurance Company, RBC Foundation, Comiskey Limited Insurance Adjustors and the Patterson family.
"This shows the high esteem Dr. Patterson holds among the medical community and beyond," said foundation executive director Michele Grzebien-Huckson.
Alliance President and CEO Colin Patey said the learning centre is a great achievement and an investment in the future.
"It's a huge step forward in our goal to enhance our reputation for training and it is an excellent example of how we can re-purpose an older facility to meet the changing needs of the future."
Patey noted that "only a few months ago" the learning centre was used for storing housekeeping supplies.
The training centre will serve the needs of resident physicians as well as nurses, students and other medical staff.
"Before this, we had virtually no room for residents," said Grzebien-Huckson. "Now they have lockers, a quiet room, a place to sleep and a shower."
The 3,200 square foot learning centre and library also boasts individual and group areas for access to the Ontario Telemedicine Network, a video forum used for training as well as a simulated hospital room.
Dr. Colin McCabe, who is finishing his residency, said doctors had to practice CPR on fold out tables prior to the centre.
"Chatham has a strong reputation as a teaching centre and now they have the facility to take that to the next step," he said.
Dr. Cassie Harnarine, chair of the CKHA board of directors, praised Dr. Patterson as a wonderful surgeon and college who "has given so much" to the community.
Dr. Susan Munro, CKHA director of medical education, noted the value of the centre that will serve hundreds of staff and students each year.
Dr. Patterson's daughter MJ, said she remembers her father's motto "just do it" for her and her four siblings and his tireless commitment to his patients.
"He was on call one week in three for decades," she said. "Still he was always there for us. My mom (Denny) and dad have been a great team for years."
Dr. Patterson opened his practice in general surgery in 1959 and served as chief of surgery at St. Joseph's Hospital for 25 years.
He was team doctor of the Chatham Maroons from 1970 to 1995.
Although he retired from his practice in 1999, he continued to work at a clinic until 2010.
He remains a valued asset to the hospital foundation, called a "shining star" by Grzebien-Huckson.
"You can't walk anywhere with Don without a former patient or family member of a patient coming up to him and treating him like a friend," she said. "He's had an amazing impact on our community."
Comments
comments