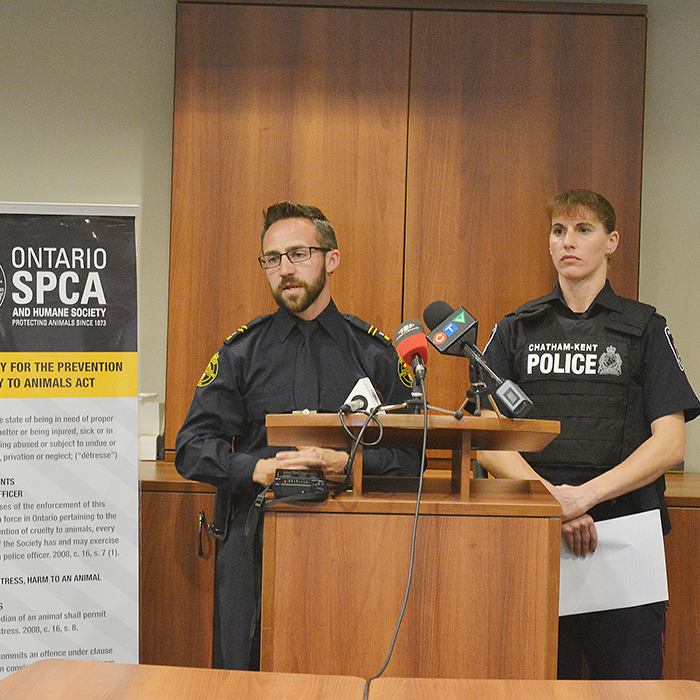 Three people charged in connection with a dog-fighting ring near Tilbury now face 92 charges each as they prepare for a bail hearing Thursday morning.
The charges against John Robert, 43, Kim Robert, 39, and Michel Gagnon, 41, of Fletcher, were confirmed during a joint media conference this afternoon by the Chatham Kent Police Service and the OSPCA.
Chatham Mazda from Chatham Voice on Vimeo.
In the worst case of its kind in Ontario since 2006, the Crown laid charges under the criminal code, the dog owner's liability act and controlled drug legislation.
The three were charged after a raid at a Morris Line home in Tilbury East Township Friday morning.
More than three dozen officers participated in the raid. They discovered 31 "pit-bull type" dogs in various states of health, one deceased dog and what police said were "hundreds of items" relating to dog training and fighting.
Chatham-Kent Police Service Const. Renee Cowell said officers remained on the scene throughout Friday and into Saturday.
Inspector Brad Dewar of the OSPCA said items recovered included bite sticks, treadmills, drugs to increase dog growth and fighting performance, videos, books and medical equipment to treat injured animals.
Dewar refused to divulge whether there was evidence that dog fighting had taken place at the scene. Cowell refused to confirm if money from such events was found there.
Dewar said dogfights are secretive events, often held quickly at one site and moved elsewhere, making it extremely difficult to track the activity.
Cowell said the investigation had been ongoing for two months.
Penalties for the charges range from prison terms up to five years and fines of up to $10,000.
Dewar said the animals are all still alive and are being kept at an undisclosed location in Ontario where they are receiving medical care.
He said the animals were all under 10 years of age and it appears all were owned by those charged. Pit bulls of that age are illegal in Ontario.
The investigation is ongoing and anyone with information can contact Chatham Kent Police at 519-352-1234, the OSPCA at 310-SPCA or Crimestoppers at 1-800-222-TIPS.
Comments
comments