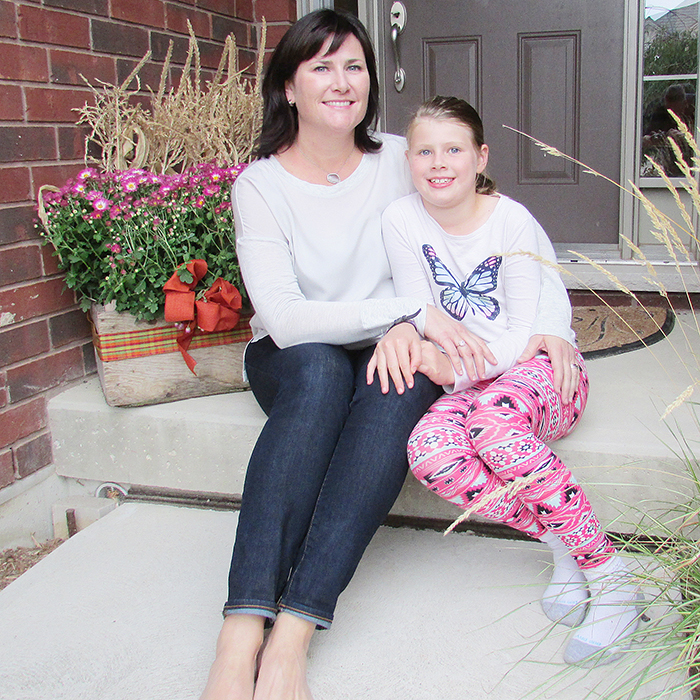 Isabella Reinisch was just your typical kid; she'd run around and play and have lots of fun.
But three years ago, something changed. Her mother, Michelle, noticed Isabella, 5 at the time, had an unslakable thirst. Given the fact she was a very active kid, and it was late summer, her parents thought she was just sweating off her liquid intake.
"'I'm thirsty.' This was the mantra I heard," Michelle said. "She was so thirsty. It was unquenchable."
Chatham Mazda from Chatham Voice on Vimeo.
On its own, the thirst wasn't what caused Isabella's parents to think she had developed diabetes. Suddenly, she'd snooze in the afternoon.
"She had naps … for two hours every day. That's just not normal for a five year old," Michelle said.
Sure enough, she had diabetes. Today, at age nine, Isabella is definitely a typical kid. She's shy at times, sports an incredible smile, and gets on her little brother's nerves once in a while.
She and her parents just have to monitor her blood sugar levels and make sure her insulin pump is working properly.
Michelle and Isabella recently connected with a group of women whose children also have Type 1 diabetes, and raise funds for the Juvenile Diabetes Research Fund (JDRF). Nancy Tippin, Cheri Arnew and Linda O'Hara have sons and daughters with diabetes, while Joanne Malette and Dawn McGregor don't but are just as active helping to raise money to help the quest for a cure.
The group is putting on its third annual Rock N For Research bash at the John D. Bradley Convention Centre Oct. 23. The O'Hara Brothers Band, kings of a good time and great causes, will entertain for the evening. There will also be a silent auction, raffle and late night chow.
Toby O'Hara, bassist and singer with The O'Hara Brothers, is also a Type 1 diabetic. He and brother Clancy make up half the band, and their mom, Linda, is a huge supporter of JDRF … and of course the band.
Michelle said JDRF is an excellent resource for parents of children who have Type 1 diabetes.
"JDRF had a huge presence when Isabella was first diagnosed," she said. "They also had information in regards to diabetes management. And our first blood sugar meter came from JDRF."
Plus Michelle likes the organization's ultimate goal.
"Their primary objective is finding a cure."
Nancy said JDRF also counsels families on better ways of managing diabetes.
"Cure, treatment and prevention. Those are their goals," she said. "And 80 cents of every dollar goes to the cause."
Tickets for Rock N For Research are $30 each and are available by calling 519-351-4352.
Comments
comments