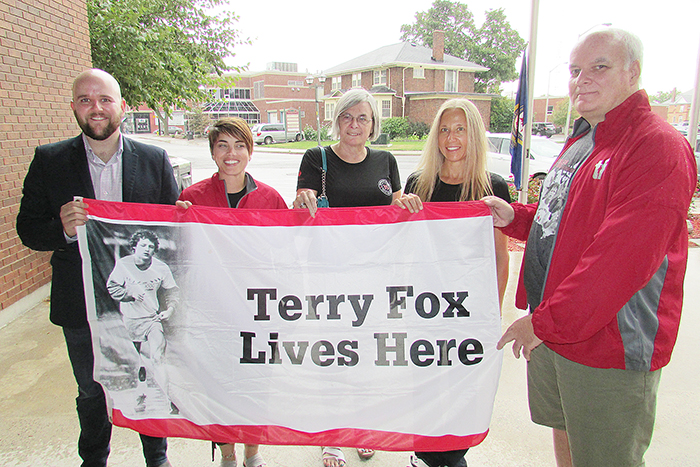 Thirty-five years ago, the loss of one of Canada's iconic heroes started a legacy that continues his Marathon of Hope and the battle to end cancer deaths.
The courage and determination shown by Terry Fox inspired a nation to carry on his dream to raise funds for cancer research, in the hope a cure will be found, and a small but mighty group of local volunteers has worked hard to keep the run going.
The 35th Annual Terry Fox Run is set to go in Chatham on Sun., Sept. 20 at Kingston Park, and in honour of the 35 year milestone, organizer Jessica Barton said a 35 K run has been set up with registration starting at 6:30 a.m., and the run at 7 a.m.
Chatham Mazda from Chatham Voice on Vimeo.
Registration for the 1/5/10 K run, walk or wheel begins at 8:30 a.m. and the start is set for 10 a.m.
Barton, along with her husband, Adam has worked hard with committee members to organize this year's run at Kingston Park.
"It's the 35th anniversary this year, so we are hoping for 350 participants, which is about 100 more than usual," Barton said. "Some people wanted to do the 35 kilometres for the 35 years and we have about 5 or so people signed up for that right now. We won't know until registration is complete how many there will be."
A familiar face at the run will be Chatham resident and Union Gas employee Pat McMahon, who has participated in a Terry Fox Run every year since its inception.
"It started when I moved to Toronto in 1981 after university and I thought it would be good cause," McMahon said. "I had followed Terry when I was in Thunder Bay, but heard he had stopped for the day before I got a chance to see him."
Since then, McMahon has run in snow in the Northwest Territories, rain in British Columbia and then more moderate climes when he moved back to Ontario where his family lives. He has been in Chatham since 2001 and participates each year, although he walks now since he stopped running.
"I did 10 kilometres when I was still running but I walk now. I'm built for comfort, not speed," he joked.
McMahon added he is grateful that Union Gas is so community-minded and has a matching funds program for employees who raise money in the community.
Anyone interested in taking part in the run can contact organizers at chathamterryfoxrun@gmail.com or go to the website.
www.terryfox.ca/terryfoxrun/chatham.