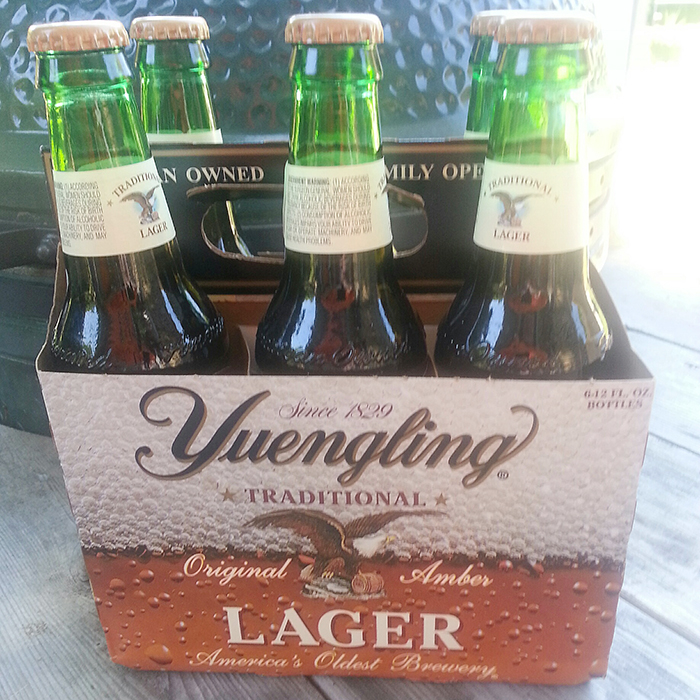 I raise my beer in a toast to Mike Uher of the local musical group Toast & Jam. He scored me some Yuengling beer after a recent trip to Ohio.
For those of you who have never had it, Yuengling is the oldest independent brewery in the U.S. It also happens to brew my favourite Yankee beer.
Chatham Mazda from Chatham Voice on Vimeo.
Unlike many American brews, Yuengling isn't carbonated water. It has flavour.
I fell in love with the Pennsylvania brew while visiting buddies in New Jersey a decade ago. It used to be only available in New York, New Jersey and Pennsylvania, but has since expanded. Unfortunately, it hasn't made it to Michigan yet.
But it is in Ohio and Florida (the last place I enjoyed a Yuengling two years ago).
And thanks to Uher, I got hooked up to a six-pack.
I still have two left, one for me and the other for the man who delivered the six pack and left me a puzzle as to who it was from. My neighbour, John, told me one morning I had a present on my side porch. It was the Yuengling.
But he wouldn't tell me who bought it, saying it wasn't him, but it was someone we both knew. I opened my Facebook friends list and Mike jumped out at me.
Much appreciated.
Anyone who knows me is aware I like beer. Not just one particular brand, but a variety of flavours (not wheat and not fruity, however). Having a brew on the go while grilling in the backyard is only natural.
Yeeungling is one of those I can't get often enough, and it was a nice little surprise. Thanks again, Mr. Toast. Or are you Mr. Jam?
Speaking of grilling
So on a recent afternoon I asked our daughter what she wanted for dinner (yes, I do this a great deal). Once she realized I was limiting it to something we could cook at home, she surprised me by asking for grilled salmon with rice.
I expected pizza or something of that nature, but instead got a request for a very healthy meal.
It shouldn't surprise me, really. I know she likes salmon, to the point where she said she prefers it to chicken (and she LOVES chicken).
This is the same teen whose two favourite appetizers coming off the barbecue these days are stuffed jalapenos (also known as Atomic Buffalo Turds) and prosciutto-wrapped asparagus.
We get our veggies in strange, but tasty ways sometimes.
The Duke of Chirp
When I stopped in at Duke's Harley Davidson last week and checked out their incredible selection of bikes, my hip let everyone know I was there.
As I walked through the door, the upright scanner chirped. I figured it was just to let them know that someone came through the door, but Duke's Rick MacFarlane said my hip set it off.
I asked if my car keys would have led to it going off, but he said some of their older riders cause it to beep as well, due to joint replacements.
I was told there was a chance I'd light up an airport metal detector. Little did I know I'd be doing it in local businesses.
I'll take a beep here and a chirp there anytime, however, over the pain and lack of mobility I had prior to surgery.
Comments
comments