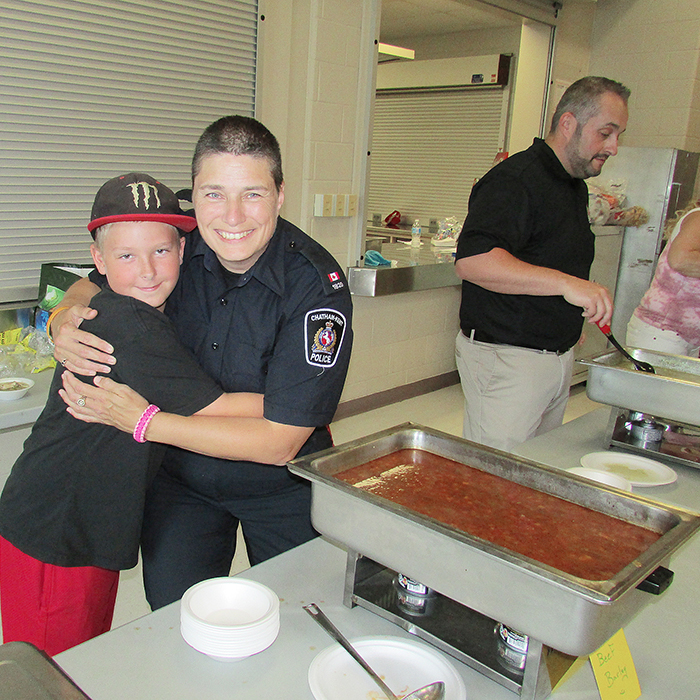 Const. Amy Finn, right, gets a big hug from Joey Reid, 11, at the annual community luncheon Friday. Members of the local police association, as well as East Side Pride put on the event.
Organizers say they had a solid turnout Friday for the annual community luncheon, put on by members of the Chatham-Kent Police Service and East Side Pride.
The event, which took place at the W.I.S.H. Centre, offered free soup and sandwiches, and was open to anyone.
Const. John Hicks said the timing was perfect, as it was a P.A. day at the schools, so kids were able to attend as well.
He sees the event as a great opportunity for police officers to connect with members of the community.
"It's good community partnership. This is all about building bridges," he said. "It lets people put a face to the name of an officer."
Hicks, a veteran constable with the police service, said he saw a lot of familiar faces at the casual luncheon, adding, "I consider many of them friends."
A good number of the people taking advantage of the luncheon are regular users of local soup kitchens, he said.
"I've met some of these people at my church soup kitchen," the parishioner of Praise Fellowship Church said.
Hicks said a number of civilian staff at the police service managed to stop by to support the event, as off-duty personnel served up soup and sandwiches.