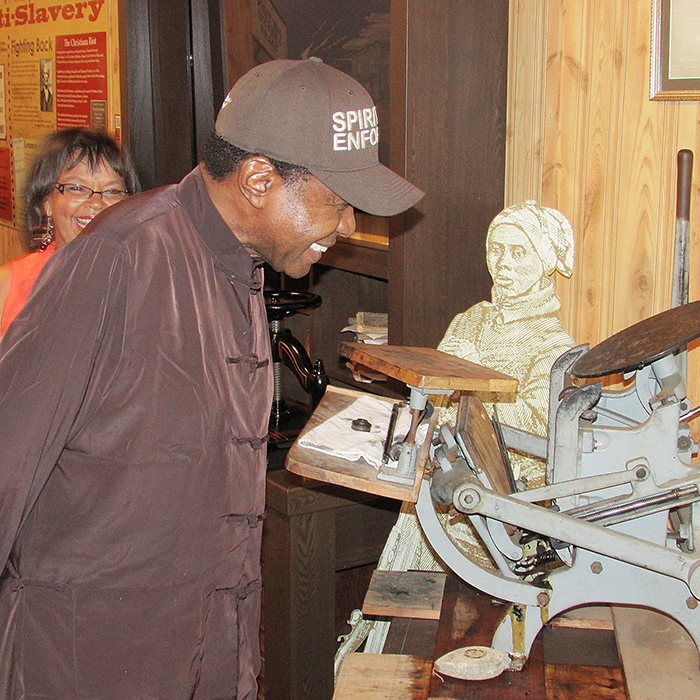 Legendary entertainer Ben Vereen Monday called for an awakening of black culture awareness in North America.
"We're losing it," he said during a tour of the Buxton National Historic Site and Museum. "We need to learn how to hold on to our heritage."
Vereen, who is in the area for performances at the Victoria Playhouse in Petrolia, spent nearly an hour visiting the museum, taking photos and ringing a replica of the Buxton Liberty Bell which was a gift to the settlers of the Elgin/Buxton settlement from the Coloured citizens of Pittsburgh in 1850.
Thr original bell is in the church hall. Legend has it that the bell was run each time a former slave from the United States made his or her way to freedom in Canada through the Underground Railway.
"We need something more than Black History Month," he said. "We need to tell future generations the tales of the abuse and the madness."
He said he has tried to instigate something such as the Passover Seder of Judaism in which traditional foods are eaten and stories about freedom are handed down.
"Our history is more than about people in books, it's about real people who lived through slavery and oppression," he said.
Vereen was shown the shackles and leg irons worn by slaves including the neckpiece adorned with bells that were worn by those who slave owners classified as "runners."
Buxton curator Shannon Prince said she was happy to have Vereen tour the facility.
"Any time we can get someone of Mr. Vereen's influence here, it helps our visibility and helps spread the message."
Vereen has had a 50-year career in show business. A renowned singer, dancer and actor, he is a Tony award winner on Broadway for his role in the musical Pippen. He has nearly 20 movie credits to his name and has appeared in dozens of television shows.
He has been nominated for Golden Globe and Emmy Awards.
One of his most memorable roles was as Chicken Georg Moore in Alex Haley's groundbreaking mini-series "Roots."