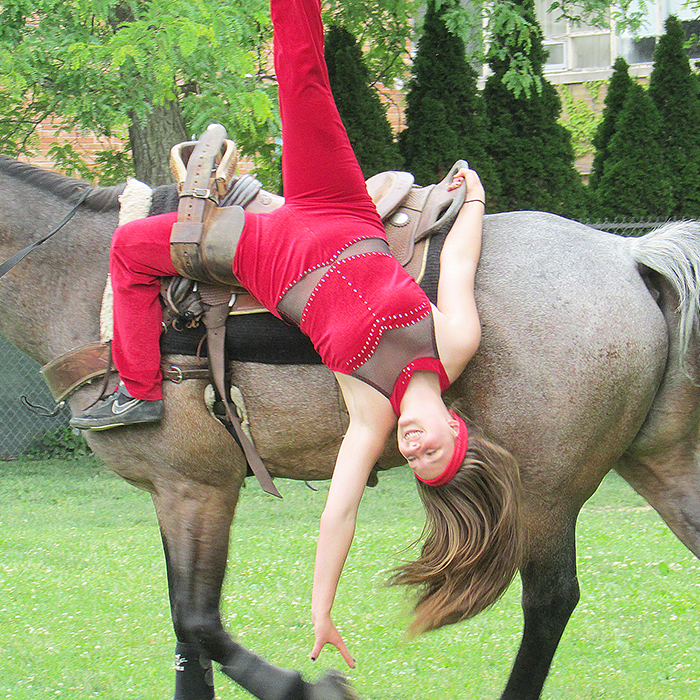 Suicide drags, vaults, hippodrome stand, fender drags – these terms might be new to your vocabulary, but for students at St. Joseph School in Chatham, they spelled excitement.
The Vollans family of Off Kilter Equine Entertainment visited area schools to promote awareness of The Ultimate Rodeo taking place July 17 in Pain Court. The event is a fundraiser in support of Chatham-Kent Crime Stoppers.
Mackenzie Vollans, 16, introduced the elementary school-aged children to the different events that take place during a rodeo, like bronc riding, barrel racing and bull riding. But what really caught their attention was Mackenzie's horse, Bayou, and the exciting trick riding she demonstrated for them. Bayou is an 11-year-old Percheron Quarter Horse cross.
Chatham Mazda from Chatham Voice on Vimeo.
The kids clapped and gasped as the teen hung upside down from the saddle in a suicide drag, stood tall on the horse in a hippodrome stand and vaulted on and off her mount while in a canter.
"Safety is really important because some of these tricks are really dangerous," Mackenzie explained as she demonstrated how the tricks are done.
Her brother, Noah, 15, demonstrated trick-roping for the kids, even jokingly roping his dad, Randy.
Matt McGinty, event consultant for The Ultimate Rodeo, said bringing in the Vollans was an educational presentation to let area children know what a rodeo is all about, get them up close to a horse and let them know about the fundraiser for Crime Stoppers.
The Ultimate Rodeo will take place at Pain Court Park on Pain Court Line under the water tower. The cost is $28, or $18 with coupon. Advance tickets and big family discounts are available by calling 1-800-516-5810. For more information, check out the web site at www.ultimaterodeotour.com.