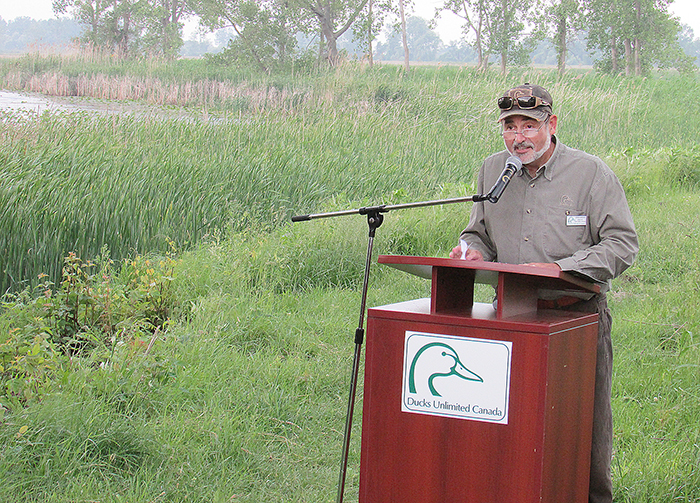 Seven local wetland areas will benefit from a $1 million grant announced Wednesday by Duck Unlimited (DU) Canada.
In a windswept, rainy ceremony at the St. Clair National Wildlife Area in the former Dover Township, DU senior volunteer Greg Weeks said funds will be used to refurbish dykes and drainage systems which deteriorate over time.
"Many of our projects are 35 to 40 years old and require a reinvestment," he said. Despite the inclement weather, Weeks looked around at the marsh area and said, "It's not hard to look around and fall in love with this place."
Chatham Mazda from Chatham Voice on Vimeo.
Andrea Kettle, head of stewardship for Environment Canada, said the Lake St. Clair area is the most important waterfowl area in Ontario south of James Bay. The St. Clair area is one of 54 sites representing 12.4 million hectares of protected land in Canada.
Weeks praised landowners with whom DU collaborates in wetland management agreements.
"None of this would be possible without landowners, governments and in some cases, industry," he said.
Wayne and Judy Connor, the property owners of Connor's March that is one of the seven areas being upgraded, is a strong supporter of DU's efforts.
"I've been a Ducks Unlimited member for years," Wayne Connor said. "We've had a management agreement since about 2003. It's an excellent group which is doing a great job protecting our wildlife."
Connor said without periodic improvements, the marsh required by waterfowl would be in peril due to water levels, a sentiment echoed by Weeks.
"We've lost 90% of our wetlands so its more important than ever to make sure we take care of what we do have left," he said.
Kettle said wetlands not only play a role in wildlife preservation but also act as an important part of the health of Canada's ecosystem. She noted that the St. Clair site contains some 35 species at risk.
The areas receiving funding under the DU grant are The Roberta Stewart Wildlife Area on the Snye River northwest of Wallaceburg, where bank erosion will be repaired, Bear Creek where beaver and muskrat damage will be addressed, Connor's Marsh where pumping upgrades will take place.
The Rex Dover and Rex 14 sites will see dyke repairs and removal of old drainage tiles.
Dyke and pumping upgrades will take place at the St. Clair site, while phragmites control and basin sculpting will be done at the Jeannette's Creek Gun Club.
Comments
comments