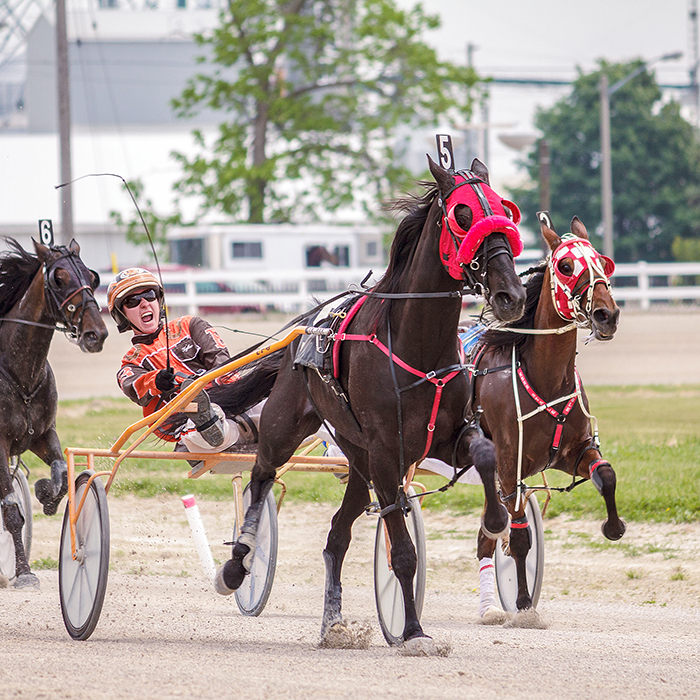 Not only did Sunday mark the return of harness racing to Dresden, but also the return of a part of Dresden's history.
The family of the late Bill Townsend of South Kent donated a sulky manufactured by the Rudd Carriage Works in Dresden in the late 1800s to the agricultural society.
The fully restored two-wheeled vehicle, known as a Rudd Democrat, is a reminder of the time when the horse-drawn sulkies and carriages were both the primary means of transportation and a status symbol.
Chatham Mazda from Chatham Voice on Vimeo.
Known for their quality of craftsmanship, high-end Rudd carriages could cost as much as $2,500.
The firm lasted from the mid-1870s until 1910 and was located on North Street between Hughes and Robinson streets.
Lucille Laprise, president of the Dresden Agricultural Society, said local resident Gary Webster found the carriage and helped bring it "home."
The presentation was made during Sunday's opening day of harness racing at Canada's Little Saratoga.
Dresden Raceway, which is operated by the agriculture society, was granted 11 harness racing dates by the Ontario Racing Commission. Opening day was supposed to be May 31, but was rained out. The date could be made up pending horse availability.
Sunday's crowd of 800 was heartening to Laprise.
"There were people parked everywhere, it was great to see. We're so grateful for the support."
Races will be held each Sunday afternoon in June and July. A special Canada Day Race will be held July 1, and the final racing date will be Aug. 2 to wrap up the 140th Dresden Fair.
To commemorate this year's anniversary, the fair is being increased from three days to four. It will start on July 30.
The 2014 racing season attracted 8,000 spectators and a quarter of a million dollars in wagering. The handle Sunday was just under $18,000.
"We pulled things together at the last minute last year, but we were successful," Laprise said. "The ORC examined the operations, made some suggestions and we're back at it this year," she said. "We're really excited."
Greg Blanchard will be returning as the raceway's general manager and Gary Patterson will still be calling the races.
Laprise said community support from Dresden businesses to special events to kids' days keeps bringing people in.
"Without the support of the community, we wouldn't have anything," she said. "The fact that we have it means everything."
Robert Sparling Jr. rode winners in four of the 10 races Sunday.