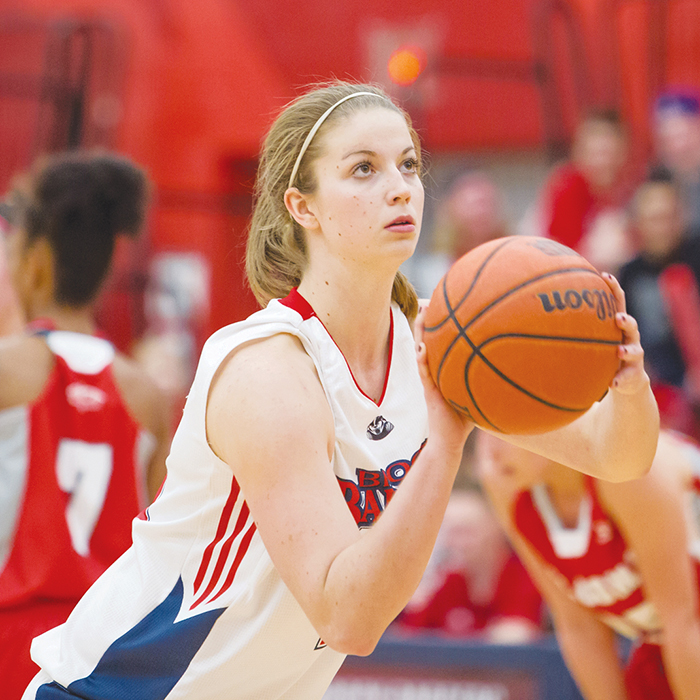 Brock student and Dresden native Aryn Finley is determined to make it both on and off the court
Having recently finished her first season of OUA basketball with the Brock University Badgers, Dresden's Aryn Finley is already setting he goals for next year both on and off the court.
"My experience as a rookie on the Brock Badger woman's basketball team was filled with learning experiences that I will take with me for the rest of my basketball career," said the six-foot-one forward.
"I learned so many new things from my coaches and I became not only a stronger basketball player, but also a stronger student."
The first year balance of athletics and academics can be a struggle, but Finley, who studies kinesiology at Brock, says she found tricks to make it work.
"Balancing my academics with athletics was definitely not easy," explains the UCC Lancers alumni. "Many bus rides to away games were spent studying or writing papers. Balancing these two things made me a stronger person and also taught me time management skills that I will keep with me through the rest of my schooling and in the workplace."
With the academics figured out, Finley also aims to make gains in her second season with Brock athletically, much as she did in her freshman campaign when she averaged close to 14-minutes of court time per game, 4.7 points, and 2.7 rebounds per game.
"My role on the court next year is going to change, because now my coaches will be looking to get more from me as a player and for me to set an example for the new rookies coming in next season," says Finley, who was MVP and a league all-star for her UCC Lancers high school team before coming to Brock.
"Off the court my role will be to set a good example for the new rookies coming into the school, and look to support them as they go through similar struggles as I went through this year. "
With years of high-level basketball experience behind her, including playing for the London Ramblers JUEL team alongside Chatham phenom Bridget Carleton in 2013-2014, Finley knows it will be her offseason dedication that will earn her more court time, and a bigger role next season.
"The key to earning more court time and responsibility is definitely putting in that extra gym time and taking advantage of it. Also, when the coach gives you a chance to prove to him that you can handle a bigger responsibility, you have to take advantage of that opportunity and try your best to make something of it."
When the 2015-2016 OUA women's basketball season tips off for Aryn Finley and the Brock Badgers, that opportunity will be waiting.
Comments
comments