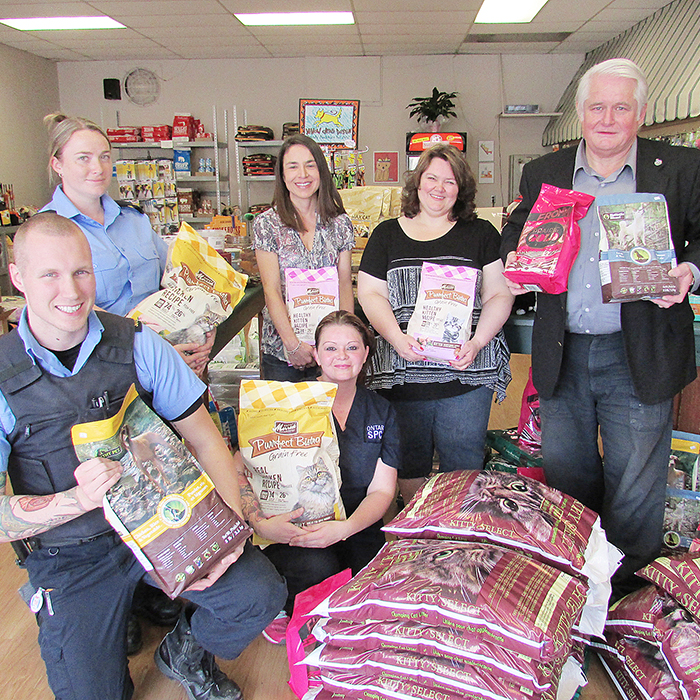 In true Chatham-Kent fashion, donors came from all directions to help fill a need recently. This time around, it was the Chatham-Kent OSPCA that was in need, as someone broke into the Park Avenue East facility and took $500 in dog food earlier this month.
Public support has more than made up for it.
Chatham Mazda from Chatham Voice on Vimeo.
On Friday, a local businessman and a local pet food store – John Cryderman and Cats & Dogs Smart Pet Food – joined forces to donate more than $2,000 in pet food and kitty litter to the shelter.
The donation filled the backs of two OSPCA pickup trucks.
Cyderman said when he learned of the break-in, he wanted to help, and reached out to Joanne Bondy at Cats & Dogs to assist.
"I zeroed in on the Smart Pet products because they are full of high-quality protein," he said. I told them I'd match them dollar for dollar to donate."
Bondy said helping out was a no brainer.
"I'm an animal lover. I thought it was horrible what happened," she said of the theft.
She said the donation included kitty and adult cat food, as well as puppy and adult dog food, plus some kitty litter.
"The OSPCA let us know their needs."
Robyn Brady of the OSPCA said the donations have created a new problem, but a good one.
"We're finding every nook and cranny to put the donations," she said. "This is huge. This community is amazing when it comes to helping out at a time of crisis."
Brady said there was indeed a crisis due to the theft as the majority of the food stolen was for the OSPCA's outreach program, which goes to people who need help being able to afford to feed their pets.
Cryderman doesn't understand the theft.
"I don't know why people would do something like this," he said. "Anyone who visits the humane society sees their many fine animals."