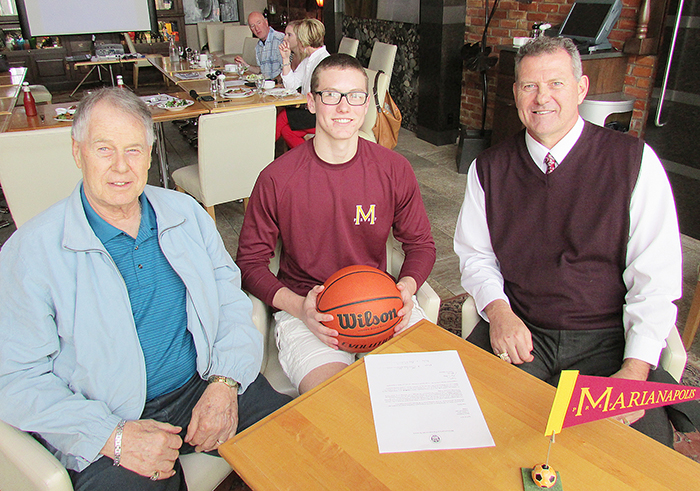 A dream that began as a four-year-old in Kailua, Hawaii is taking 17-year-old Marley Blommers from Chatham to Connecticut as he pursues his ambition to play professional basketball.
Blommers signed a letter of intent Wednesday to attend Marianapolis Preparatory School in Thompson, Conn., trading in his CKSS Golden Hawks jersey to become a member of the "Golden Knights."
According to his father Ron, a former member of the Canadian men's' basketball team and a 2010 inductee in the Chatham Sports Hall of Fame, Marley is the first Chatham-Kent resident to play in the U.S. prep system.
"Marley has loved basketball from the time he could bounce a ball," Ron said. "We were living in Hawaii when he was small and we put him in a league. He never looked back. I'm so happy he's getting this opportunity."
The 6-foot- 4 shooting guard was noticed through the hoopgroup.com site that showcases basketball talent. His YouTube video showing him competing against some of the top high school talent in the Northeastern United States resulted in offers from four prep schools.
"We toured all four with our checklist of what we thought would be best for Marley," Ron said. "They were all impressive, but Marianapolis is the best fit."
Marley has been playing 80 games per year for the past two seasons, split between CKSS and the AAU (Amateur Athletic Union) program in Michigan.
It's meant a lot of weekends on the road, but Marley enjoys the competition.
"You get better by playing better opponents," he said. "When you have success at one level, the idea is to reach further to see how far you can go."
His recent play for the Michigan Soldiers in the King James tournament attracted attention as he led the team to a final four appearance by hitting a three-point shot, making a foul shot and grabbing a steal in the final minute against Ohio.
Although he realizes playing for a Division One American university team and eventually professional basketball are still in the future, he plans on keeping his options open.
"I'd love to play pro but I'm getting an education so I can have a career in sports medicine or physical education," he said. "Going to school in Connecticut is going to be a big change, but I'm ready."
Ron said part of the reason behind the prep school offers is Marley's academic marks that translate into a 3.7 (out of four) grade point average.
Marley's grandfather Henry Blommers said his grandson is a "hard worker, just like his dad. Ron would practice basketball at two in the morning, he loved it so much. I'm proud of both of them."