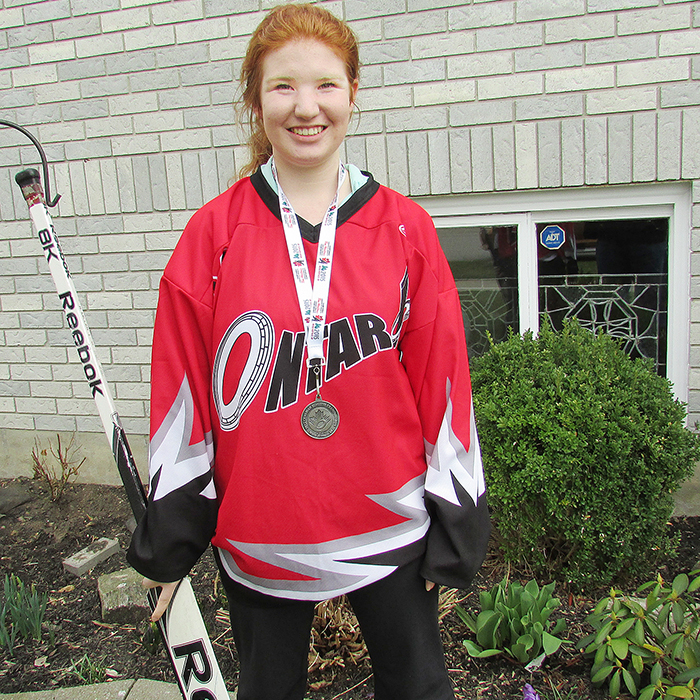 As more and more young girls are chasing pucks these days, choosing hockey over ringette, Chatham's Sarah Woods stands out in juxtaposition.
Sarah isn't a puck chaser, but is instead a ring stopper.
And a good one.
The 16-year-old Chatham-Kent Secondary School student was named the top goalie at the U16 AA national ringette championships, held recently in Wood Buffalo, Alta.
Sarah plays with the London Lynx, who won the provincial title this year, earning a trip to the nationals.
Chatham Mazda from Chatham Voice on Vimeo.
After playing 11 games in six days, Ontario fell to Manitoba in the final.
But it was an experience of a young lifetime for Sarah.
She said it was a whirlwind of a tournament, one that left a void when it was over.
"I had to go from playing so many games in a row to the end of the season," she said.
It was a year of firsts for Sarah – her first provincial title and first national tournament, as well as her first time on a plane.
"I was scared I would be a nervous flyer but it was incredible," she said.
And then there was the all-star selection.
"I wasn't expecting it – to have my name from Team Ontario to be called as a first team all star," she said.
Her father Blake said the selection committee took regular season play into account in choosing all-stars. Sarah had a lot of shutouts during the year in a sport known for offensive production.
In 11 ranked contests, she forced the other team to lay a goose egg four times. She added three more in an earlier tournament.
Sarah stressed her shutouts and the all-star nod are a result of her teammates playing in both ends of the rink.
"That has a lot to do with my defence," she said. "Our team was super strong."
Sarah plays out of London simply because Chatham doesn't offer AA ringette and London is the closest centre. Blake said only five girls on the London squad are actually from that city, as it's a magnet for girls in the region looking for higher level ringette competition.
Sarah's been playing ringette for 11 years, but didn't slide between the pipes until she was 10, and it wasn't by choice.
"Only because we didn't have a goalie. I hated it," she said. "And I'm here now."
She said the job comes with a great deal of pressure as the last line of defence. But this year's squad helped remove the weight of such pressure.
"One thing about my team is they never blame anyone," she said.
As for her future, Sarah hopes to continue playing the sport she loves for a couple of more years, perhaps even when she goes to university.