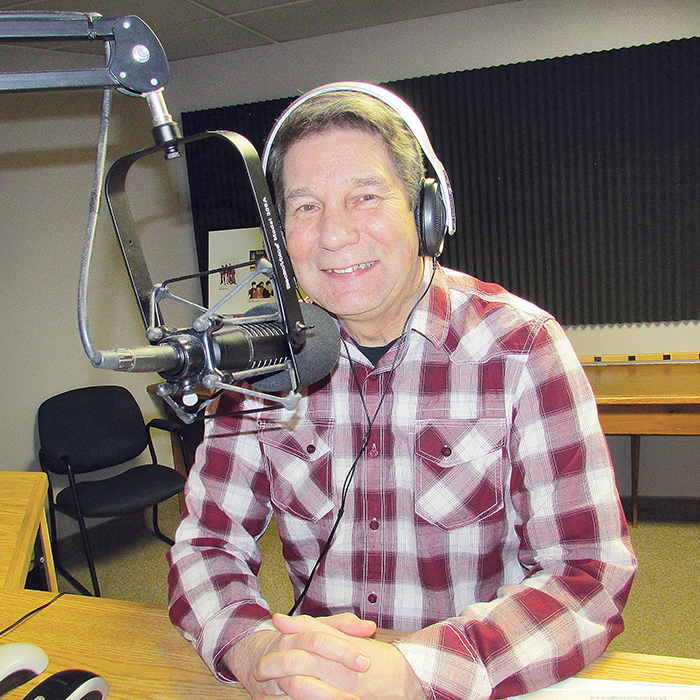 One of the most familiar voices in Chatham-Kent went silent Friday as veteran local broadcaster George Brooks walked away from the radio booth.
Brooks retired after 44 years in the business, the last 39 of which were spent in his hometown of Chatham.
Brooks, who turns 65 in June, said he was hoping to retire at some point this year, but an opportunity came up sooner than expected. He said he received the offer April 8, two days before stepping out the door.
The Chatham Voice caught up with Brooks in the broadcast booth of CKUE on Friday before his last on-air shift. He looked over at one wall, commenting on a rack of CDs, now viewed as an antiquated system of music storage. Radio stations today play music stored on computers, which is a long way from where Brooks started.
Chatham Mazda from Chatham Voice on Vimeo.
His career began in 1971 at CKAR 630, a country station that happens to be at the same point on the AM dial as Chatham's CFCO.
"I was spinning 45 RPM singles and 33-1/3 RPM albums then," George recalled.
Even during his evening shifts at the Central Ontario station, his hometown signal would still reach out to him.
"I would go off the air at 1 a.m. You'd hear CFCO waft in after that. It just goes a long way," he said, citing the low point on the dial and the "skip" effect AM radio signals can experience at night.
After a year and a half spinning country tunes late at night, Brooks shifted east to Peterborough, playing rock 'n' roll for CHEX under a new name.
"I was an evening rock jock. I was 'Gary' Brooks – they didn't like 'George' – on Liftlock Rock," he said.
That gig lasted for about a year and a half. When Brooks tired of all the evening work, Huntsville beckoned. A morning slot had opened up, and Brooks jumped at the opportunity.
But Chatham's signal strength was ultimately stronger, and in 1976, Brooks came home to work on CFCO.
"It was a dream come true. I grew up listening to CFCO," he said, adding the dream wasn't his alone. "My mother was so proud of the fact I was on the air. She'd tell everyone that was me."
Brooks was a mainstay on CFCO until the format change to country about seven years ago, moving to CKSY for a half decade before donning the headphones for CKUE under it's "LITE FM" programming format.
With a career spanning more than four decades, it's hard to believe Brooks didn't get into radio to play music.
"I got into the business because I wanted to get into sports broadcasting," he said. "There were some great voices doing some great sports broadcasting. But I just ended up playing music."
His idea of good music is country or classic rock, although he admits his long radio career gives him a great perspective on what is indeed "classic."
"The 'classic' rock of today is stuff I played when it was new," he laughed.
He's met a lot of great people over the years, he said, but one in particular stands out – legendary actor Ernest Borgnine. The actor was in town performing a one-man play at the Cultural Centre in 1981.
"He was so friendly and accommodating. He was this huge star and I worked at a little radio station," Brooks said. "He was just a very nice man."
Radio jocks are often tasked with doing live remotes, as well as off-site promotions. Brooks recalled his strangest – and most WKRP-like – moment came in the heart of Chatham.
"I was dressed up as a big chicken, handing out flyers for an early bird sale," he said. "I'm not sure if I surprised or scared a woman, but this little, old lady fell on the sidewalk. As I bent over to see if she needed help, I realized this must have been quite the site – a giant chicken standing over this little woman."
Office pranks are another fact of radio life. Brooks said during the days of rip-and-read newscasts where news personnel would tear their stories off the printer and stack them to read them in a predetermined order on the air. Pranks included stapling together all the pages except the top one so the news anchor wouldn't realize the issue until they'd already stared reading the news, or opening the booth door during a newscast and lighting the script on fire.
"We used to try to crack up the news guy," Brooks explained with a devilish grin.
What the future holds for the cancer survivor is not being anchored to one thing in particular. He has no roadmap yet set for the coming days and weeks, but expects that will change soon enough.
"I have no really big plans. I will take it easy for a bit," he said. "I love working in the yard and I like fishing. But I might find I want to do something part time or do some more volunteering. I can sort of do what I want."
Sitting at home twiddling his thumbs won't be an option.
"You've got to have some reason to get up every day," he said. "I will certainly be doing that."
Comments
comments