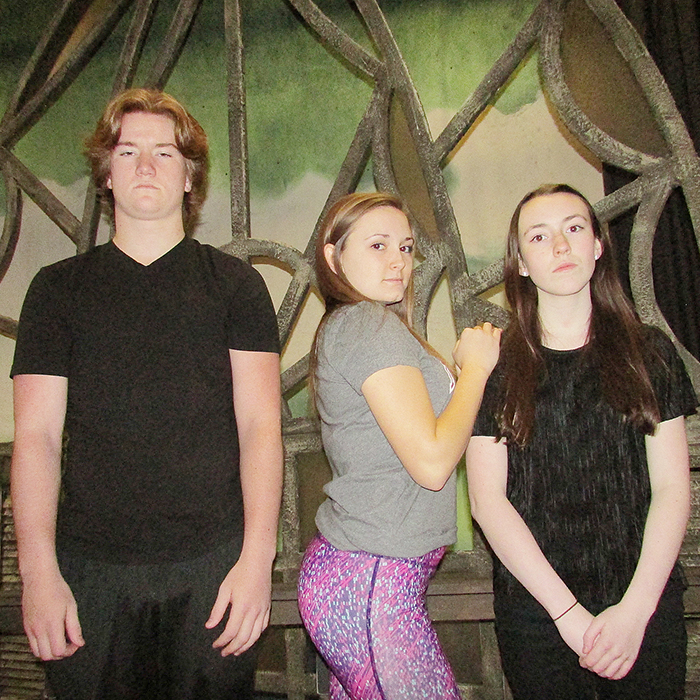 The 20th performance put on by students at Ursuline College Chatham is in good – and familiar – hands.
The driving forces overseeing "The Addams Family" – Jordan Matteis, Megan Biondi, Jeremy Zimmer and Lindsay Dunlop – are teachers involved with the show, but they are all former UCC students who participated in the productions.
Chatham Mazda from Chatham Voice on Vimeo.
With them is Michael Milner, who is the vocal coach, and is one of the teachers who started the extracurricular drama program at the high school more than two decades ago.
It all began in 1994 with "Joseph and the Technicolour Dreamcoat."
Biondi, who is co-directing the "The Addams Family" along with Matteis, said the cast and crew is in the final phases of preparation before Opening Night April 15.
"It's coming together nicely," she said, adding there is still a lot to finalize. "The finishing touches on the set are being done, painters are in all hours of the night trying to get everything done, and we're learning to bring the sound together."
Work began on the performance back in October, Biondi said. The cast would gather twice a week until Christmas to rehearse. Since the new year, things have ratcheted up a notch.
"We've been going until 8 p.m. for three days a week since after Christmas," said Kelsey Sinasac, who will play Morticia.
She said she enjoys all the effort, adding everyone is keeping it light, as they've had potluck nights and even pajama nights during the heavy workload.
Biondi said it is a large commitment from the students.
She said the decision to do "The Addams Family for this year's performance is a good one.
"Everybody loves 'The Addams Family.' It grabs people's attention and draws them in. It's a comedy," she said. "And the music is absolutely fabulous. It's one of those shows where you'll walk out humming a tune. It sticks in your brain."
Biondi said as odd as the fictitious family is, people will connect with them, and the story.
"The Addams aren't as weird as we might think. It's all about family," she said. "And the rediscovery of love."
Sinasac agrees.
"There are three different love stories," she said. "There's a lot of lighthearted behaviour. There's something for everyone."
Maddy Vasey, who plays Wednesday Addams, thinks the show will appeal to a broad group of people. The characters first appeared in 1938 in Frank Addams' comic strip. The TV show evolved out of that in the mid-1960s, with animated children's shows following it, as well as another TV show in the 1990s. There were also two movies made in the '90s as well.
Biondi said a number of cast members are taking part in their first UCC productions, including several senior students. One of those is Zach Kaniecki, who will play Lurch.
"I love it. It's awesome," he said, admitting he's playing a character with few lines. "Lurch is not a man of many words."
Meanwhile, Sinasac is no stranger to UCC performances, as this will be her fourth. The Grade 12 student has split time between playing violin in the orchestra and having a role on stage.
"There are benefits to both. That's why I like flip-flopping," she said. "But I do like being on stage.
Biondi said there are about three-dozen cast members and 15 musicians. But with stagehands, lighting technicians, make-up artists and costume people, all told there are about 100 students involved with the show.
"The Addams Family" runs April 15-18 in the UCC theatre. Tickets are $18 each and are available at the UCC box office from noon to 5:30 p.m. Monday to Friday.