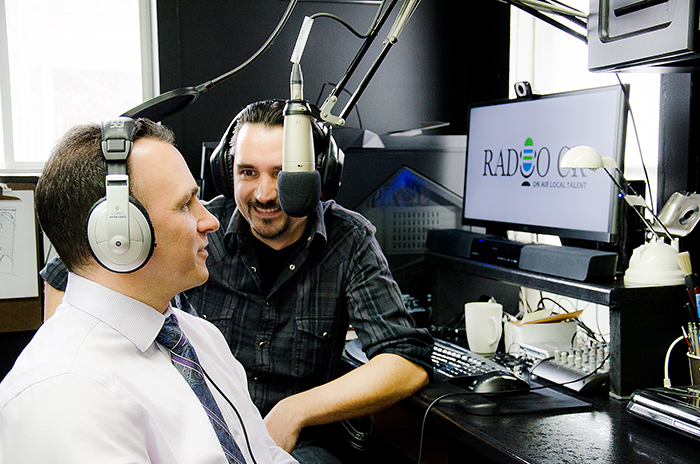 In less than a month, an all-local online radio station went from an idea on social media to reality.
Radio CK (radiock.ca) was conceived by Thamesville actor and film producer Florin Marksteiner as a way to provide a non-profit platform for local musicians, artists and others to get their message across locally and around the world.
"I just had this idea that we needed something to show just how much talent we have locally, so I put up a Facebook page March 3," he said. "I had no idea whether people would agree with me and help make something work or if it wouldn't work."
Chatham Mazda from Chatham Voice on Vimeo.
Marksteiner said he's been amazed at the response.
"I've been getting all kinds of texts, e-mails, Facebook messages and calls," he said. "It's been one step at a time but there has been so much enthusiasm. Without that, this wouldn't be happening."
Marksteiner said the station will not accept advertising (although it will accept donations) and is a volunteer venture.
"Since we don't have to be concerned with making a profit, we can concentrate on the local talent without worrying about being in a certain format. Our audience is anyone who has an interest in local music, culture and art."
The station will be operated out of Marksteiner's Thamesville professional-grade studio.
Marksteiner said he's seeking local musicians.
"We have had some interest through our Facebook site and word-of-mouth. If you've got something you want us to play, get in touch with us through the site," he said.
"We are inviting everyone that wants to be broadcasted, any artist, no matter if is music, painting, photography, sculpture, DJ, anything, to participate and be hosted in our live shows and on our website with links to their social media and their music stores."
The station will feature other programming as well.
Myrna Jewell, a Wallaceburg writer originally from Saskatchewan, will manage the station's content.                                                                          David Farquhar, whose Voice in the Wind project has brought him international recognition, is bringing his audio production skills and some programming to the station.
"We have Jamie Rainbird from the Economic Development Centre who will do a series on starting a business, Mary Ellen Herder who will do a segment on the upcoming week's events, Lori Turner is doing a feature on the CK job market, and Will Carey that will do a series on personal finances," he said.
A special program will feature Nathaniel Peter Wortner and Mihai Branzanw with "TeenTalentTalk" where they will chat with C-K students about their talents and plans for their music careers.
The station will also have a distinctly local feel from the past."We are collaborating with Chatham Archive and we are able to use all their info from their database, which means we'll be able to have information on the local music artists," he said.  "We are inviting everyone that wants to get involved and wants to give something to the community of Chatham-Kent to contact us and we'll discuss how they can contribute. We're looking to create interesting and useful series for the region."
Comments
comments