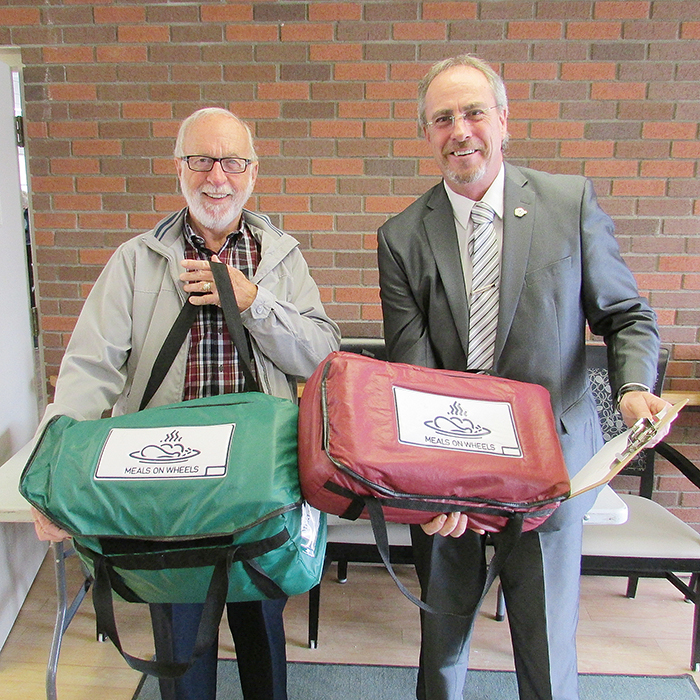 Margaret Janssens' daughter was just four years old when Margaret started driving for Meals On Wheels (MOW) in Chatham when the organization first set up shop here.
That daughter is now 47, and Margaret still gets behind the wheel for the MOW. In fact, her husband of 57 years, Jake, has been driving for the organization for the past two decades too.
MOW volunteers deliver hot meals to seniors who still live independently. Steve Reinhardus, who overseas MOW in Chatham, said the organization not only helps those people maintain their independence, but it also can provide peace of mind for the family.
"We help them stay independent, but we also serve as a second set of eyes for the family," he said.
Margaret agreed.
"You get to know them. When they don't answer the door, you worry," she said.
The Janssens took local politicians out for support Friday on their regular deliveries. Each was on one of six routes in Chatham that MOW handles Monday, Wednesday and Friday weekly.
Margaret took Chatham Coun. Michael Bondy, while Jake took Mayor Randy Hope. It was part of Mayors for Meals, a component of the March for Meals campaign.
Elected officials around the continent delivered meals to show their support for MOW and to raise awareness of senior hunger.
Margaret said she really enjoys being involved in the program.
"I like it. It's as simple as that," she said. "I like the elderly. They are really good to get to know even if it's just for two or three minutes at a time."
She likes the interaction and believes the seniors, especially through such a long, cold winter, appreciate it too.
"Another benefit for the elderly is we visit them, three times a week," she said, stressing the importance of such interaction. "Elderly people this winter have really felt hemmed in. They've gotten cabin fever."
While Margaret picks up fill-in routes, Jake delivers three days a week, twice a day, taking hot lunches to seniors in Chatham in the late morning, and then dinners to folks in Tilbury in the afternoon.
The MOW service is offered in Blenheim, Ridgetown, Chatham, Dresden, Wheatley, Tilbury, Merlin, and North and South Buxton.
For more information about Mayors for Meals, or the Meals on Wheels Chatham-Kent project, please phone 519-351-MEAL (6325).