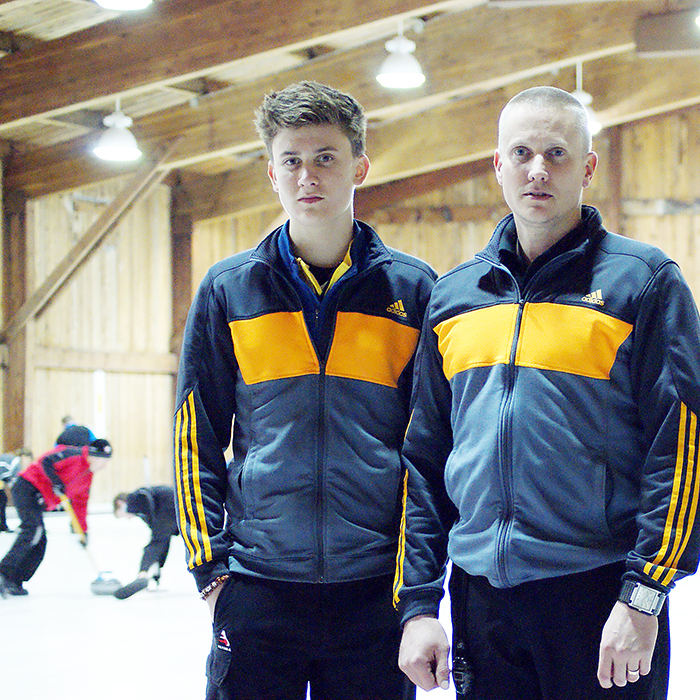 For the Curtis family, curling is in their blood. What started several decades ago with Ben Curtis' parents has been passed down to him, which he in turn has passed on to his son Cam Curtis, as the duo can often be seen on rinks across Ontario, including at Chatham's Granite Club.
Cam Curtis and his Chatham Granite Club team recently won the Ontario Curling Association zones and regionals, qualifying for provincials where they finished seventh.
Chatham Mazda from Chatham Voice on Vimeo.
While Cam has had recent success, he credits much of it to the experience he's gained curling alongside his father Ben, who has 32 years of curling experience, including multiple Ontario championships, and a national championship in 2009 representing Chatham at the Travelers Curling Club Championships.
"I think that curling alongside my dad has helped improve my game because he is such an experienced curler," said the younger Curtis, who is currently in Grade 10 at St. Anne Catholic High School in Lakeshore.
"He can help me with almost anything I might need because chances are he has gone through the same things I'm going through. He always gives me tips, points out things I should be paying attention to."
For the elder Curtis, the time he spends on the rink with his son is invaluable, and something he describes as a "phenomenal" experience between father and son.
"It is something that I will never, ever forget," said Ben Curtis, who also curled for the University of Windsor. "It is two hours where nothing else matters. No chores, no homework, nothing; just teammates … equals. Watching Cam grow as a curler, watching his talents improve, being there to see all of this first hand, makes me one of the lucky ones."
Although they play together each week at the Chatham Granite Club, watching Cam's success alongside his Chatham teammates was a different experience for Ben Curtis this winter, one he found tougher than being on the ice himself.
"Watching is so much more difficult than playing," said Curtis of watching his son reach the provincial championships. "I think part of it has to do with not being able to be out there with him. Not being able to guide him, give him advice; reassure him that he is doing the right thing in that circumstance. I guess that's all part of letting go. Nonetheless, it's not an easy thing to do."
Watching, however, is where this father-son bond originally started, as Cam grew up at the curling club watching and studying his father on the ice.
"Growing up, I went to some of my dad's games on Thursday nights," said Cam Curtis, who also competes for his high school's swim team. "Whenever I would go, I would watch him play. I'd watch the way he came out of the hack, and how he swept the stones, and kind of I guess you could say 'studied' his techniques. When I started curling, I just used the techniques I saw my dad use."
After years of watching his father win, Cam now hopes it will be his turn to put the Curtis name on more trophies across the country, and follow in his father's footsteps.
"My next goal is to get to the Travelers Club Championship and win a Canadian Championship just like my dad did, and get one more name plate up on the trophy case that said, 'Curtis.'"