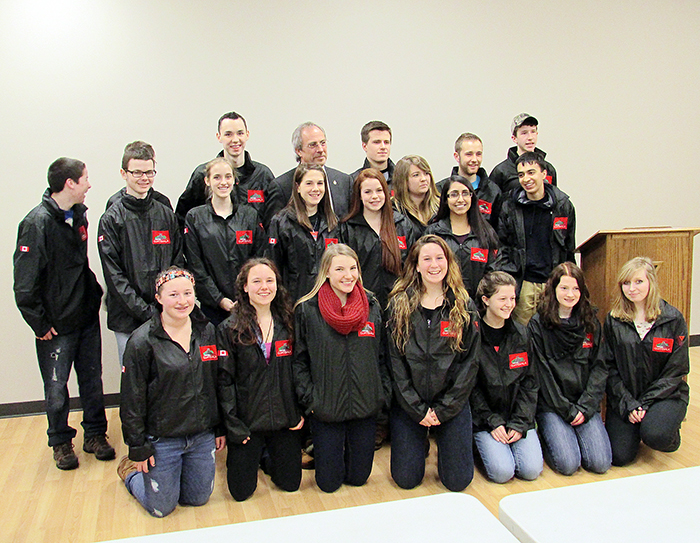 A year of preparation is about to pay off for 20 Chatham-Kent teens.
For three hours every Tuesday over the past year, the students have met at the YMCA as part of Project Guatemala.
The YMCA program sent them to the Central America country March 5, where they will spend three weeks getting their hands dirty, helping local citizens.
The students will help build a room onto a schoolhouse in San Cristobal, Verapaz, during their time in Guatemala.
The YMCA's Mike Walters said there are three pillar elements of Project Guatemala – leadership development, philanthropy and community service.
After all the preparation, the kids can't wait to get to work.
The thought of leaving our seemingly never-ending winter is also appealing
"I can't wait for the nice Guatemalan heat," Brandon Vaughan joked.
The trip won't all be about building the addition and getting blisters. Vaughan said the group will climb an inactive volcano, Volcan Acatenango, and a trip to see Mayan ruins is on the agenda as well.
Student Morgan Faugh-Bulkaert said their preparation time went by quickly.
"It's hard to believe it's been a year," she said.
The group gathered each week, learning Spanish, fundraising and bonding. For the past year, the teens put other activities on hold to focus on Project Guatemala. Now, they can't wait to head south.
Faugh-Bulkaert said while she is away, she'll be worried about her family, who will be concerned for her.
"This is a Third World country. They'll worry," she said.
Vaughn wonders how he'll adjust to the food.
Benjamin Hindmarsh said at the beginning of the project, he may have had some concerns about being homesick during his three weeks away. But all the familiar faces should solve that.
"Because I've spent a year with everybody here, I'm not worried about homesickness," he said.
Faugh-Bulkaert said she's been told the hardest part of the trip may be coming home.
"We'll be more aware of the food we waste," she said. "And how lucky we have it."
The group heard from Mayor Randy Hope on March 3. He wished them well and, among other things, advised them to slop on the sunscreen.
Hope also invited the group to address council once the students return from their experience.
Comments
comments