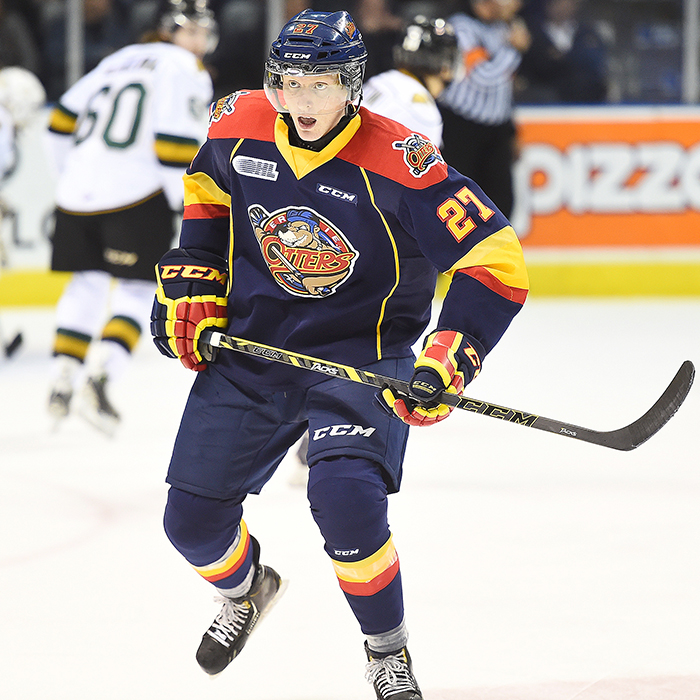 Trent Fox is shown here skating with the OHL's Erie Otters. (Photo by Aaron Bell/ OHL Images)
Entering the OHL typically comes with pressure. Teenage hockey players are expected to move away from home and perform on a nightly basis in front of thousands of fans.
When your older brother is the reigning OHL goal scoring champion, and was signed to an NHL contract, and one of your current teammates is widely considered the best NHL prospect on the planet, that pressure and fishbowl environment is magnified tenfold.
That is the life of Thamesville's Trent Fox.
Chatham Mazda from Chatham Voice on Vimeo.
Fox is playing for the OHL's Erie Otters, the same team from which his brother Dane just graduated. Plus, he's playing alongside current phenom Connor McDavid, who will likely be the first overall pick in the 2015 NHL Draft.
"It feels cool to play for a team that I have watched play for the past three seasons," said Fox of watching his older brother Dane in Erie.
Trent Fox, however, isn't riding on his brothers' coattails. The six-foot-two forward, who played his minor hockey with the Chatham-Kent Cyclones and London Jr. Knights, is paving his own path.
"I'm my own player," said Fox. "Dane had a great run with the Otters and I hope to be as successful, in my own way."
The younger Fox hasn't ignored his older brother completely, however, as Dane, who signed with the NHL's Vancouver Canucks last year, has always been there to support his brother.
"Dane is always giving me advice," said Trent, who played at Ridley College last season after being drafted in the fifth round by the Erie Otters.
"I know that I have to work hard, both in games and at practices. Dane always tells me to get the puck in deep and do the little things right. He tells me to be consistent. My motivation is just to work hard and play hard every game, and to play at the highest level possible. "
If he needs another example of a player competing at a high level, Fox has to look no further than his teammate McDavid, who is far and away the best player in the OHL this season.
McDavid, is not only the best player in the OHL, he's the best player his age in the world, something he's proved while representing Team Canada at various tournaments, and through his dominance in the OHL since he entered the league with an exceptional status exemption at the age of 15.
"Connor McDavid is an amazing, world-class player," Fox said of his Erie Otters teammate. "Playing with him has been a great experience. He sets a good example, and as a team we all learn from him."
Despite the amazing individuals around him, Fox has a mentality similar to many hockey players; that his team comes first, and his personal goals are designed to help his team win.
"My goal this season is to help the Otters to be successful.  Our team has one goal, a team approach to winning with the ultimate goal being the Memorial Cup."
With the talent, including Fox himself and superstars like McDavid and Dylan Strome in the Otters organization, a Memorial Cup is not out of reach.
Although Fox is a team first player, he also has aspirations of bigger things in his personal career.
"Beyond this season I know I need to continue to work hard all the time," said the 17-year-old Fox, who attended Lambton-Kent Composite School in Dresden while living in Chatham-Kent.
"I need to train hard in the off season to be ready for the long, gruelling hockey season.  I hope to continue to play hockey at a high level and ultimately play professional hockey someday." 
Comments
comments