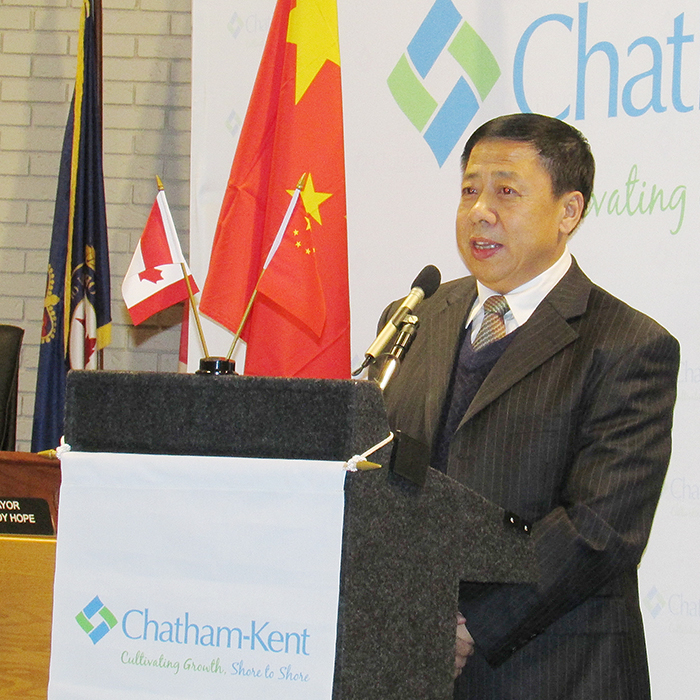 Zhang Xiaohua, vice-chair of the Changchun Municipal Committee, speaks to a gathering at the Chatham-Kent Civic Centre before signing a friendship agreement with Chatham-Kent Mayor Randy Hope.
In an effort to promote an exchange of economic, educational and cultural benefits, the municipality inked an agreement with a Chinese city Friday.
Mayor Randy Hope and Zhang Xiaohua, vice-chair of the Changchun Municipal Committee, signed the symbolic friendship agreement Friday at the Civic Centre in Chatham.
Changchun is the capital and largest city of Jilin province in northeastern China. It has a population of nearly 3.9 million people.
The leading industries in Changchun and surrounding area are automotive and agriculture, something familiar to Chatham-Kent.
Hope has been to Changchun twice during his time in office. He thinks the efforts are paying off.
"The trips are part of the development of friendships," he said. "We've had a lot of our discussions. These are helping to bring them closer."
Hope is optimistic the increased familiarity between Chatham-Kent and Changchun will lead to mutual economic benefit.
"As we look for joint venture opportunities, this is a sign of progress in relationship building," Hope said of Friday's meeting. ""We have a lot in common in our communities. Agriculture and automotive play significant roles."
Zhang agreed, adding there are opportunities for co-operation in the two sectors.
He invited Hope and other municipal representatives, plus business leaders, to attend Changchun's 2015 agricultural fair next August.
Hope said the agricultural fair in Changchun is quite large and could offer potential business networking opportunities for local agricultural support organizations.
Zhang said through a translator he and the other members of his delegation are quite interested in local agricultural practices such as in the fields and in terms of pest control.
Joe Zhou, CEO and president of Brightenview, which announced in September it is developing a marketing centre in Blenheim for overseas businesses, attended Friday's meeting. He addressed the Changchun delegation briefly in Mandarin.
Councillors Joe Faas, Carmen McGregor and Darrin Canniff also attended Friday's event.
Included in the one-year agreement, were the following:
The two municipalities give high priorities to each other in offering the latest information in economy and trade.
Each municipality will recommend a school for mutual exchanges based on faculty, student and academic activities.
The two municipalities extend co-operation in culture, including exchange visits of artists and performing tours, and exhibitions on culture and art.
Changchun officially invites ceramists and sculptors from Chatham-Kent to attend the China Changchun International Ceramics Symposium and China Changchun International Sculpture Symposium.
Changchun officially invites athletes of Chatham-Kent to join the Half Marathon for International Friendly Cooperate Cities of Changchun 2015.
The two municipalities shall continue official visits.
Relevant departments of the two municipalities shall maintain frequent contact for bilateral exchanges and issues of common concern.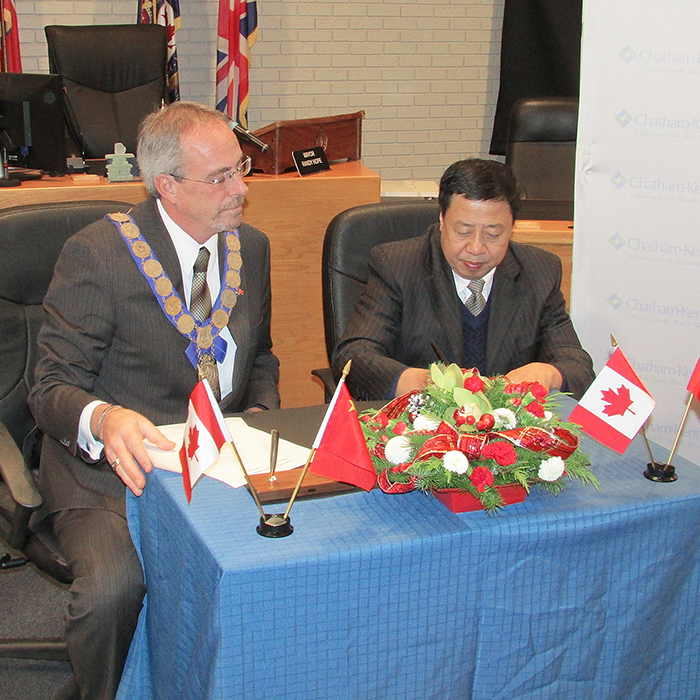 a,