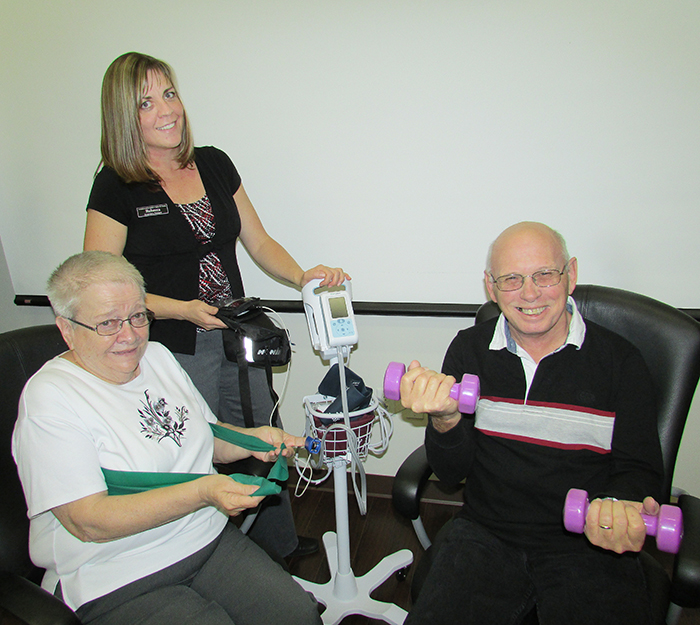 The fear and uncertainty for a patient diagnosed with chronic obstructive pulmonary disease (COPD) may be overwhelming, but it doesn't have to take your breath away thanks to the Breathe Well program.
Chatham Mazda from Chatham Voice on Vimeo.
In its second full year of operation, Breathe Well is funded by the Erie St. Clair Local Health Integration Network (LHIN) and offered by family and community health teams in Chatham-Kent through the Community Care Access Centre (CCAC). Its goal is to help people live with and better manage their COPD through the eight-week program run each spring and summer and supervised by respiratory therapists (RTs).
At the Thamesview Family Health Team, the lead organization of the program, RT Rebecca Whiting said the incidence of COPD in Chatham-Kent is higher than average at 5.1 % (compared to the province at 4.2%), resulting in a higher number of trips to the emergency room to manage symptoms. Whiting said the Breathe Well program follows patients from hospital to home. The goal is to prevent re-admissions and give patients the tools and knowledge they need to have the best possible quality of life while living with chronic lung diseases.
"The CCAC is the system navigator for the area – a one-entry referral system and in the intake interview, they do a needs assessment to see exactly what the patient needs," Whiting said. "The program is all about self-management and action planning, and making sure the patient is engaged in their care with the practitioner. Folks come in very scared and they leave the program with confidence."
Jim King of Wallaceburg is an example of how the program has helped a patient move from scared and unsure to confident in his ability to self-manage his symptoms through exercise and knowledge.
King's health issues began with his heart. After a stent was put in his artery, King joined a cardiac rehab program in Sarnia and initially felt great. He eventually found out his heart issues were masking COPD. He ended up in emergency after collapsing, was put on life support with only 20-25% heart function. A heart valve was replaced to bring his heart function up to 45%, but the entire experience left him scared and unsure of his future.
"I lost 24 pounds in the hospital and you're frightened because you don't understand what is happening, and until this (Breathe Well) program, nothing was meshed," King said. "You need information and knowledge; you need to know when to exercise, how to exercise, nutrition advice and even legal advice. This program does that with group discussions plus the exercise.
"They asked me at the beginning what I was there for. I told them I was there for all the knowledge I can get – this is the rest of my life."
The all-encompassing nature of the program helps patients deal with how COPD affects all aspects of their life, King said.
"Other programs are mono-focused, but the COPD program is holistic; it covers everything. We weren't afraid to talk about anything."
Topics include education on lung disease and the importance of exercise, managing shortness of breath, medications, managing flare-ups, actions plans, managing fatigue and stress, healthy eating, oxygen therapy
With RTs like Whiting supervising, each patient learns to make sure everything they do is within their own personal limits.
"People came to the program on oxygen and in wheelchairs. It was a diverse group, but it works for everyone with Rebecca there to make sure everything done is within the limits," King said. "It was interesting to learn to breathe all over again, and what they teach you, you can do at home. You don't have to spend thousands of dollars on expensive equipment."
Fellow Breathe Well graduate Brenda Anderson of Chatham agrees with the benefits of the program.
"It's a whole living changing thing," Anderson said. "I went to the exercise classes and am breathing 100% better and my movement is better. It's a program I would recommend to anyone; it's complete."
Anderson said the more she learned, the more active she got and now is down to one puffer, once a day.
For King, the program helped him and his spouse, Mary Lynn, who said she can look at Jim and see the confidence builder it has been.
"Jim had been on life support and I couldn't believe the weakness in my husband's body. This program explained all of that," King said. "Whoever put this program together did a very good job. These other hands of the doctors have made our walk with this so much easier. You need these other pieces to get through it; you have to have the whole team."
Whiting said the program is available at no cost which is a great benefit to patients and it also helps break a cycle of inaction.
"The program helps break the shortness of breath/anxiety cycle. The patient is short of breath so they are scared to exercise, then get more short of breath and more out of shape," Whiting said.
As an RT delivering the program from the beginning, Whiting said it has been a very rewarding experience.
"It is great for me. We are not just putting out the fire, we get to rehabilitate them and give them back their quality of life," Whiting said.
Anyone interested in the program can speak directly to their health care provider for a referral to Breathe Well or call the CCAC intake directly at 519-310-CCAC (2222).