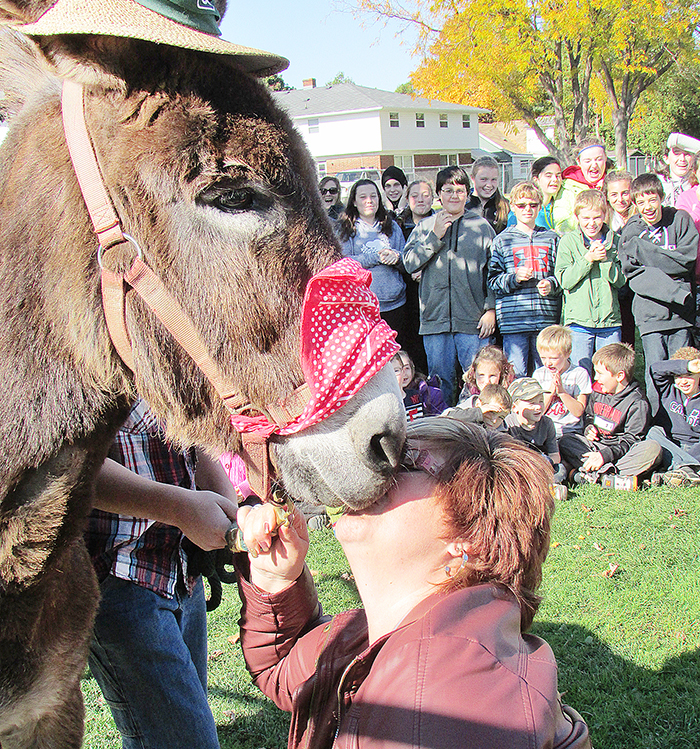 Kelly Van Boxtel, principal at St. Ursula's School in Chatham, may have to explain to her husband the new hairy, yet handsome friend she was kissing Wednesday morning.
Thanks to the school's Do the Right Thing committee, Van Boxtel was challenged to kiss, on the lips, 35-year-old Don-keyote, the Buis family donkey that lives on their beef farm just south of Chatham on Seventh Line East.
Chatham Mazda from Chatham Voice on Vimeo.
Kim Gaiswinkler, one of the staff advisors for the committee and French teacher, said the group numbers around 20 and is open to students in Grades 6-8.
"The kids are very excited," Gaiswinkler said. "Some asked if donkey's even had lips – and no they don't."
Patrick Buis, 12, is a student at St. Ursula and a member of the committee looking for ways to help with the FCC Drive Away Hunger campaign to collect canned goods for the local food bank. Buis said the Do the Right Thing committee came up with the idea that if they brought in 1,300 canned goods, Van Boxtel would kiss the donkey. With a snazzy red bandana, straw hat, and a fresh grooming, Don-keyote was delivered to the school by Patrick's dad, Mike Buis.
Although the final count came up a bit short of the goal at 813 canned goods from 13 classrooms, Van Boxtel said her own kids talked her into honouring her commitment since the kids had done such a good job.
A very good sport about it, Van Boxtel put on some red lipstick, puckered up and gave her new friend a big smooch in front of the staff and students.
"I've never kissed a donkey on the lips before," she joked. "I am very proud of the students who stepped up and showed incredible leadership, going around the school and over the announcements to pump people up. They showed real leadership and will be an important piece of our community in the future."
"I'm not sure though, if I will trust them next time," she laughed.
Comments
comments