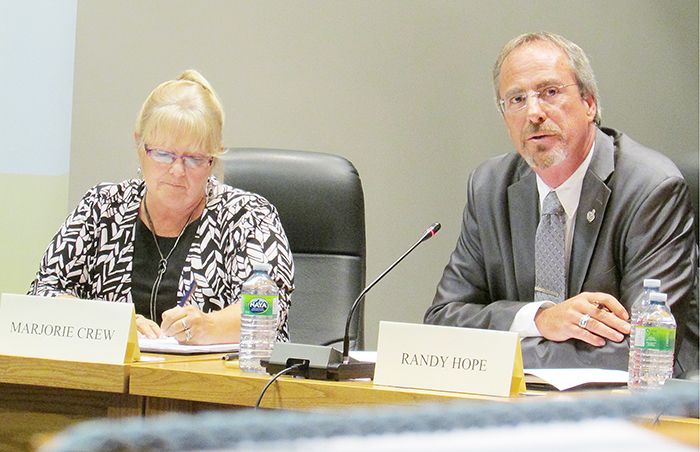 Chatham-Kent's seven mayoral candidates went under the TV lights Thursday night in Chatham in front of a packed house at the Civic Centre.
They spent the better part of two hours fielding questions pulled at random by moderator Gail Bishop for the Chatham-Kent Chamber of Commerce/TV Cogeco Q&A session.
As was the case with the previous night's Ward 6 council candidates' session, all had two minutes to provide introductory remarks and another two to close the night.
Questions addressed topics such as the property tax burden, municipal cohesion, and fiscal responsibility.
Q – What are your specific objectives for business development and to stimulate job growth in Chatham-Kent?
Ian McLarty:
"We are here to provide the platform for business to succeed. We need to provide infrastructure and services. We've been wandering from critical infrastructure and services for far too long. In the case of the (John D. Bradley) convention centre, we're in direct competition with businesses in the municipality. We're diverting funds to support an entity that just should not be there."
Jeff Bultje:
"The best champions for every business are their own people. When they go to other communities and talk about their business, they should be talking good things about Chatham-Kent. They are not. There's too much red tape. I would concentrate on businesses here in order for these companies to go abroad and say Chatham-Kent is one of the best places to do business."
Steve Brent:
"We have to create an economic environment so small, medium and large businesses can flourish. Right now, the climate of Chatham-Kent is such a distraction and a negative environment. We have to create an environment of positivity."
Reno Lachapelle:
"I feel renovating the downtown core, retaining investment, creating a state for investment to come and creating a walkable downtown" would improve our economic climate.
John Willatt:
"We need to provide a welcoming environment to business. When you're looking to bring in a company to Chatham-Kent, while taxes are important, you have to think about the senior management team and what they'll want in the area. You have to think what will attract them here. Let's make the management team happy and they'll come to Chatham-Kent."
Randy Hope:
We have created relationships and support. I believe the economy is working. In the last year, we have brought 13 new companies to Chatham-Kent."
Marjorie Crew:
"We need to be creative when we're trying to attract new investment and new jobs to Chatham-Kent. It's quality of life that draws people into the community. The downtowns in all our communities are very important and they are economic drivers that bring people. Community pride is contagious.
Q—Where and how does agriculture and our local farm business fit into your economic development priorities?
Willatt:
"Agriculture is huge in Chatham-Kent. We're blessed with great weather, adequate water supplies to grow crops. It's now a high-tech industry and it's very important to Chatham-Kent."
Brent:
"Agri-business in Chatham-Kent is lifeblood. Opportunity in the agricultural sector is probably the largest opportunity we have as an economic driver. We have gutsy, innovative farmers out there and processes that are world class."
Hope:
Agricultural prices are a race to the bottom. I believe there are export markets that need to be explored. If you look at what we grow in Chatham-Kent, we grow for the world. How do we make sure the farmer benefits?"
McLarty: What we need to do is support it (agriculture) by supporting our critical infrastructure – roads, bridges and ditches. We build $500,000 bridges when $20,000 culverts will suffice."
Crew:
"With food sustainability becoming a world priority, Chatham-Kent is poised to become a leader in this area. We need to be promoting this and supporting this and using our University of Guelph partners to help build on that. Just looking at the greenhouse industry, there's so much growth and opportunity that is untapped."
Bultje:
"It's the most important thing in Chatham-Kent. On the farm tour, we were told there are 600 jobs waiting to be filled. We have to work closer with the colleges. We need more training for our young people so there are jobs. There's a need for high-pressure welders. We're importing these people into our community. These jobs are paying between $90,000 and $100,000. And that's a starting wage."
Lachapelle:
"Agriculture is a big part of Chatham-Kent. We have a huge advantage over other communities. We could be promoting agricultural festivals, weekly markets and spice festivals."
Wildcard comments of the night
Brent:
"I've been talking to our MP and MPP and they talk about the infrequency they have meetings with the mayor and CAO. I would talk with them regularly to make sure we get our just desserts in terms of federal and provincial funding. I think there's money on the table that we didn't go after."
Bultje:
"Municipal council has to have a very clear understanding what their mandate is. They have to understand what we're supposed to do – the roads, the sewers, the sidewalks – so when special interest groups come forward, it should be very clear for city council to say to them, 'Those are wonderful ideas, but that's for private business.' We don't want to spread ourselves so thin like we've done in the past."
Crew:
"As mayor, it's your duty to keep your team focused. We need to sit down early in this council's term and set our direction. We need to annually review that direction and stay the course. The goals must be realistic."
Hope:
"I believe the operating expenses have not been out of control. They've been managed by this council."
Lachapelle:
"I feel we need to listen to the community, learn from the community and improve communication all around."
McLarty:
"Fiscal accountability starts at the top. You're not just the mayor, you're the CEO. You are the chief executive officer of a multi-million corporation. You need to hold people accountable from senior administration. Last week, they were caught again misleading council. When you have line-by-line quarterly reports hidden from the public and hidden from council, it's a prime example of holding senior administrators accountable."
Willatt:
"It (tourism promotion) has not been very effective. We've lost several very important festivals. We've lost the Faire at the Forks, we've lost the highland games…I think as mayor, I'll give priority to bring back festivals which bring in outside dollars to our community."