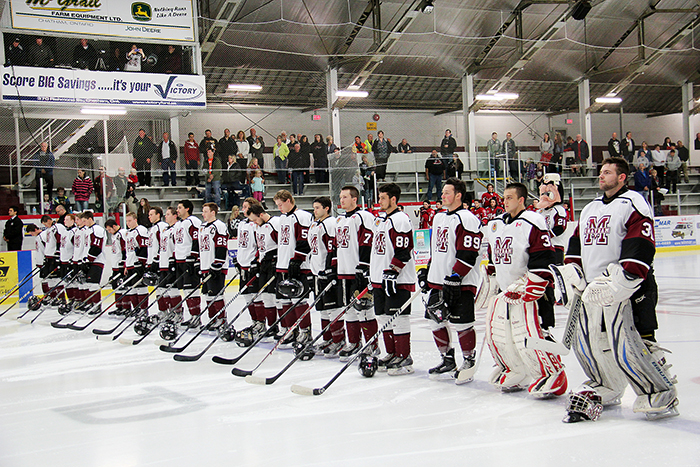 When casting a vote Oct. 27 in the municipal election, there will be many hot topics on voters' minds. In Chatham, one issue Ward 6 council candidates are talking about is the need for a new arena.
"I have been a vocal supporter of Chatham-Kent's need for a new multi purpose arena to serve both the recreational and economic needs of our community," said current Ward 6 councillor Derek Robertson, who is running for re-election.
"We need to continue updating current facilities and look at a new arena and indoor sports facility," said candidate Darrin Canniff, a long-time athletics volunteer who also works at Union Gas. "Many local residents see the quality of recreational facilities in other similar sized or smaller communities and question why Chatham-Kent hasn't made these type of investments."
The observation of other Southwestern Ontario communities seeing new arenas built is valid, as towns such as Belle River, Essex, Leamington, Strathroy, St. Thomas, Komoka, LaSalle, and Amherstburgh have all had arenas constructed recently.
Chatham Mazda from Chatham Voice on Vimeo.
Although candidates are voicing several reasons necessitating a new arena, ice time availability was the prime concern for many.
"There needs to be a twin-pad arena in Chatham-Kent. We need more ice time available after school and before 11 p.m.," said candidate Matthew McReynolds, who grew up playing hockey in Chatham-Kent. "The only option for youth teams to practice shouldn't be first thing in the morning before school, or late at night when they have school the next day. In the past, there have been numerous locations brought forward for this, but nothing seems to be accomplished to move this forward."
Although the need seems obvious, candidates understand a decision on a new arena, or multi-pad complex, needs to make sense financially.
"I know that a twin-pad arena is top of the list for many," said candidate Karen Robinet. "I'd like to see that too, but the time needs to be right financially."
"I recognize the significant cost yet remain committed to exploring every funding avenue including the leveraging of available senior government funds and private partnerships to ensure the realization of this initiative," added Robertson about seeing a new arena through to fruition.
"A solid business plan needs to be put in place to balance costs with economic reality," echoed Canniff about plans for investment in sports-related infrastructure in Chatham-Kent.
With Chatham's Memorial and Erickson arenas seen by many to be on their last legs, similar to aging facilities in Wallaceburg and Ridgetown, council candidates agree the time is right to re-open the discussion of renewing facilities.
"With aging sports-related infrastructure, we need to focus on strategic renewal in order to avoid escalating costs in the future," said Chatham candidate Brock McGregor, who works as a naturopathic doctor. "Facility renewal cannot be continually delayed; it is an issue we need to address in the near future."
Until that time, when a new arena makes fiscal sense, and a property becomes available, Chatham's Ward 6 candidates also understand maintenance of current arenas will become more pressing.
"To facilitate the best possible experience for children playing sports, we must keep our facilities up to date and maintained well," said Eric Shrank, another of Ward 6's 22 candidates. "I would prefer to see a more open and positive working relationship between the municipality and the organizations to provide the facilities needed."
"We also need to look at the best use of our arenas to ensure that those in need have acceptable times. Until we can afford a new arena, improvements at Memorial are a must," added councillor Bob Myers, pointing to Chatham's Memorial Arena, home of the Junior B Chatham Maroons as a focus for Ward 6.
While not all candidates see a new arena as a priority, the majority thinks it's time to revisit this topic. Now, candidates will see if Chatham-Kent voters agree, when they head to the polls Oct. 27.
Comments
comments