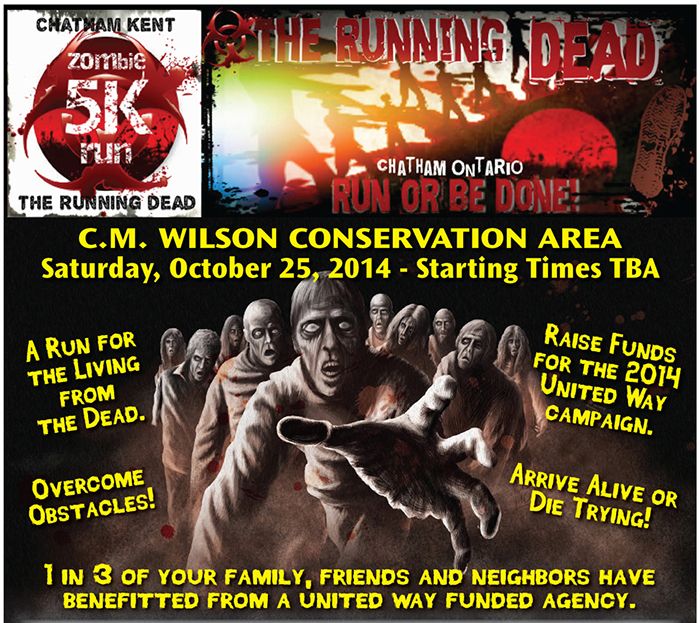 Local zombies need more targets.
Organizers of the Running Dead-Zombie Run slated for Oct. 25 is in danger of being cancelled unless more people sign up, and soon.
Event organizer Deb Owen said they have fewer than 40 runners signed up and need to reach at least 100 for the race to take place.
She said the sheer volume of local race events this year has likely impacted advance interest in her 5K fun event.
"If we don't get 100 runners registered by Tuesday (Oct. 14), we'll have to cancel," she said. "The 100 is basically the minimum number to make it worthwhile to have the run. All the setup is quite labour intensive."
She fears people wanting to take part may miss out because they don't register in time.
"Everyone's talking about it. They think it's a great idea, a lot of fun, but no one's signing up at the moment. It's going to be a riot if it goes."
This isn't a timed event, but rather a run for one's lives, with your "lives" being the number of flags attached to your belt.
Owen said each participant has a belt with three "health" flags. If you reach the end of the obstacle course with at least one flag still attached, you will have survived the zombie apocalypse.
As the event is a fundraiser, for the United Way, participants can get up to two more flags if they raise additional money.
"If you fundraise, you can get more flags for $100 each, up to five flags total," Owen said.
But there will be those aforementioned obstacles, including zombies. Owen said not only can people sign up to run in the event, but others can take part by turning into a zombie.
"You have to evade the zombies, who are not allowed to run. You can bump into them and they can just grab your flag," she said.
There are safe areas near each major obstacle or "event," as Owen called them.
"There are just a whole bunch of fun events while you are running from zombies," she said.
If you cross the finish line alive, you receive dog tags. If you're "dead," you don't drop out of the event, but when you finish, you receive a bracelet, Owen said.
The run takes place at 3 p.m. Oct. 25 at C.M. Wilson Conservation Area. Cost to run is $45, and cost to be a zombie is $25. If they get their participation numbers, Owen said the event would go off rain or shine.
To register, click here.