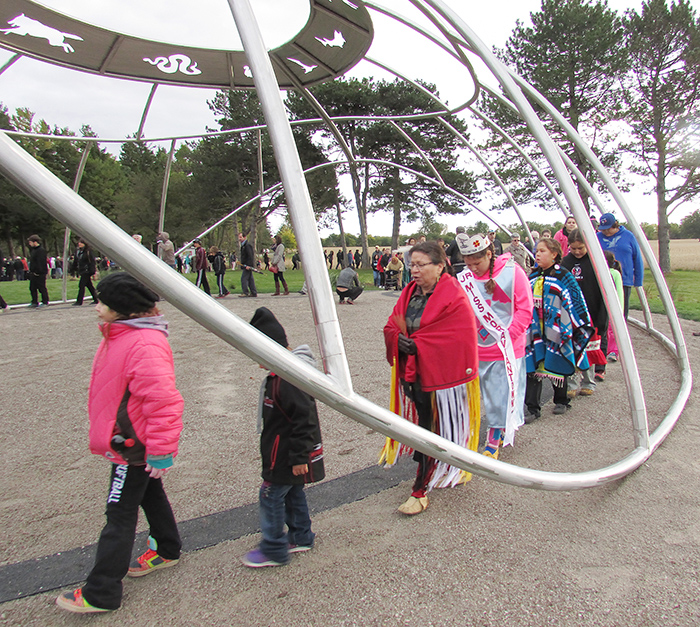 Under a leaden, wind-whipped grey sky, several hundred natives and non-natives came together Sunday to recognize a fallen hero and begin a cultural healing process.
The occasion was the dedication of A Place of Many Grasses and a sculpture, "Wisdom," monuments to Tecumseh's bravery and his vision. The sculpture is on Longwoods Road, three kilometers east of Thamesville.
Tecumseh, a Shawnee chief and leader of a First Nations confederacy, was instrumental in bringing together native support against the Americans in the War of 1812. He died Oct. 5, 1813, in the Battle of the Thames near Moraviantown.
The ceremony was hosted by Delaware Nation Chief Greg Peters and included chiefs from Walpole Island, The Caldwell Nation, Gordon Peters of the Assembly of First Nations, and Ron Sparkman, a Shawnee Chief from Oklahoma.
Chatham Mazda from Chatham Voice on Vimeo.
Sparkman called Tecumseh the "greatest Shawnee," and thanked the Moraviantown community for honouring his memory as his people have done with Tecumseh's brother Tenskwatawa, revered as a prophet.
Moraviantown resident Pat Noah called the ceremony "awesome. It's so good to see the spirit of a great warrior and leader acknowledged," she said. "I'm happy that the non-native community is recognizing his importance and his legacy."
The event featured speeches by area politicians including Chatham-Kent Essex MP Dave Van Kesteren, MPP Rick Nicholls, and Chatham-Kent Mayor Randy Hope.
Chatham-born sculptor Gordon Reeve spoke of how he was spiritually influenced during creation of the burnished steel sculpture that is 18 feet high and has a 50-foot-by-48-foot radius.
From studying the site, he noticed how grasses can be blown over by strong wind but always return upright, and how after a harsh winter in which they were dormant, they regenerate from within.
Reeve constructed a path to the sculpture that separates and then comes together to symbolize how the native and non-native cultures have grown apart but have the ability to join as equals.
Following the formal part of the ceremony, the two groups walked along the path, many shedding tears, before eventually coming together, shaking hands and sharing hugs.
As they did, the sun came out from behind the clouds.