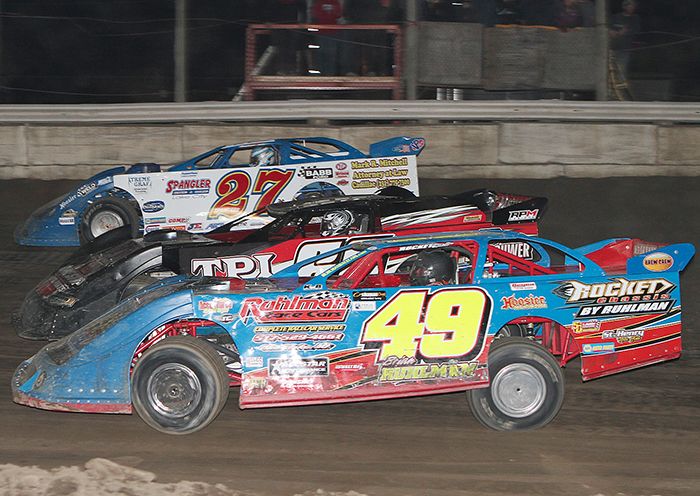 Two teens stole the show at South Buxton Raceway's season ending two-night Canadian Fall Shootout.
Jake Hooker, a 14-year-old from Chatham, pulled off a stunning upset in the Sport Stocks Shootout feature on Saturday night – the first career win for the rookie driver.
One night earlier, 16-year-old Trevor Jones of Blenheim put the finishing touches on a sweep in the Tirecraft Mini-Mods, winning the season championship race to go along with his first points crown.
American drivers won the main events, as Brian Ruhlman, of Clarklake, Mich., won his fifth career UMP Modified Shootout feature and Eric Spangler, of Lake City, Mich., won his first in the UMP Late Models.
Cottam's Rob Quick, with a tribute paint scheme for his ailing father Bob, won the Mini-Mods Shootout feature Saturday.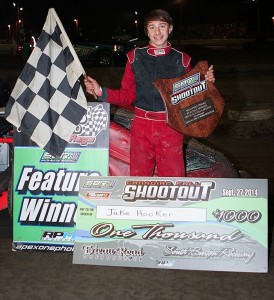 But it was Hooker's win that was the most memorable for the nearly 2,000 fans on Saturday night as he avoided a rash of accidents to park in Victory Lane for the first time.
"It's pretty crazy; I didn't think I was going to win a feature this year, I was happy just winning a heat race," the young teen said, as his only checkered flag in his rookie season came in a June 21 preliminary race.
Hooker finished sixth in his qualifying heat race and started the 14-car feature in fifth row.
"My dad (Kirk) told me to stay back for the first few laps and wait for a couple of cautions to make my move," Hooker said.
"I noticed Tiffany (Ellis) was passing people on the high side so I followed her and got by a few cars," said Hooker.
Attrition and penalties from nine cautions in a three-lap stretch helped Hooker move up to third place.
He inherited the lead when Essex's Doris Lajeunesse spun while leading on the next restart, and Cottam's Tiffany Ellis's car shut down after getting passed by Hooker on the next attempt.
Track officials reduced the race to a green-white-checkered at that point, putting Hooker in the lead for a single file restart.
Hooker was able to pull away as Merlin's Steve Shaw got by Wallaceburg's Gary Vyse for second but couldn't run down the leader.
Hooker received the $1,000 winner's cheque, one of the largest purses ever for the class.
He earned an additional $1,000 bonus from race fans Ron and Zook Garant, who told Hooker they'd match the Shootout purse if he won.
"I thought the race was going to be a wreckfest because so much money was on the line," Hooker said.
"I guess I got rewarded for being patient," said the 14-year-old in a veteran's tone.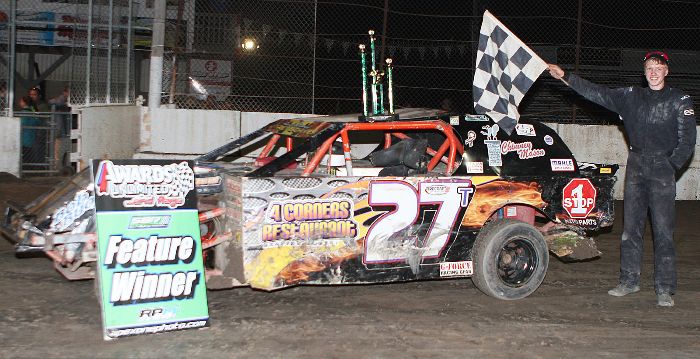 Friday's Tirecraft Mini-Mods championship race summary will show that Jones started first and finished first. But what the stats won't show is how the 16-year-old Blenheim native had to pass virtually the entire field – including passing three cars in one swoop on a restart with three laps to go – to get to Victory Lane.
Jones started fourth on the late single-file restart behind Chatham's John Pinsonneault, Dresden's Matt Sorrell and Blenheim's Elliot Wilton, but jumped to the high side when the three lead cars all slowed and he took the lead as the pack came out of turn two.
Jones led the final three laps to add the championship race trophy to his season points title.
"I thought I was going to finish fourth," Jones admitted.
"I was lucky the caution came out because it gave me a last chance, and lucky that whatever happened to Pinsy (Pinsonneault) happened and I was there to get by," Jones said of the turning point of the race.
On lap six, it looked like Jones' chances of winning were done when he spun coming out of turn four while battling Quick for second place.
The rest of the field – with the exception of Pinsonneault, fourth-place Sorrell and fifth-place Wilton – got caught up in the melee while Jones had to restart at the end of the lead lap cars.
"I thought maybe I'd get back up to a top five (finish), I never thought I'd win, I thought for sure the '0' car would be in Victory Lane," Jones said of Pinsonneault, who took the lead on the first lap.
While Jones had to work his way through the field after the accident, Pinsonneault was counting down the laps as he held off Sorrell and Wilton as the race went green until lap 17 until a caution set the stage for a single-file restart with three to go.
Sorrell got under the back of Pinsonneault's car as the green flag came out, lifting the leader off the ground, while Wilton had to get off the gas to avoid causing a crash.
Jones, who had worked his way to fourth for the restart, drove to the high side and passed all three cars before they got to turn two, then held off Sorrell and Wilton for the final three laps to complete the Mini-Mod title sweep.
"I was going to try to make a move on the bottom when the green came out but I saw them all pile up behind Pinsy, so I went to the outside and it worked," Jones described his winning move.
Pinsonneault, meanwhile, made it around the track one more lap before pulling on the infield with smoke pouring from under the hood – and likely from under his helmet.
"It's a tough way to lose one, I don't know how happy they are to (try to) win like that, but it is what it is," added Pinsonneault, as the damage to his motor kept him out of Saturday's Shootout.
Jones clinched the points title on Sept. 13, the family's fourth crown in five years. His older brother Shawn won three in a row from 2010-12, his first coming at age 19.
"It feels really good, it's been never been done before in my family," Trevor said of his title sweep, as Shawn never won a championship race.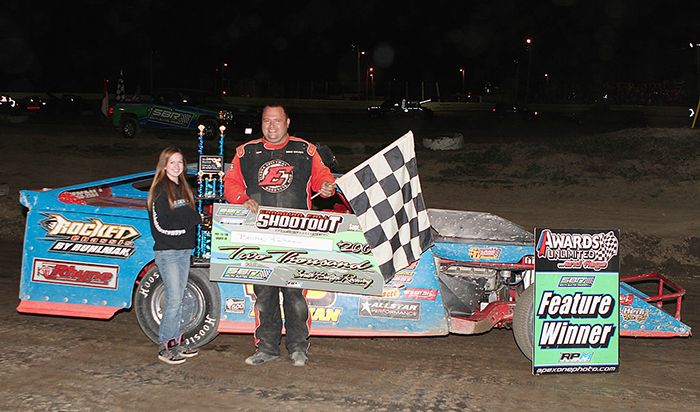 Ruhlman started on the outside pole and led all 30 laps for his fifth Modified Shootout win. He finished second to Louisville's Jim Fletcher in 2012, the only time he didn't win.
Leamington's Justin Coulter, Shrewsbury's Jim Dale Jr., Leamington's Joel Dick and Merlin's Brad McLeod rounded out the top five.
Ruhlman earned the $2,000 winner's share.
Spangler took advantage of a caution with four laps to go to take the lead from Ridgetown's Dale Glassford, as the 2014 points and championship winner led the first 26 laps.
The Michigan driver led the final five laps, including a green-white-checkered finish, to win his first Late Model Shootout and $3,000 winner's purse.
Glassford hung for second, followed by Blenheim's Andrew Reaume, Wallaceburg's Mike Lewis and Ruhlman, who drove both classes.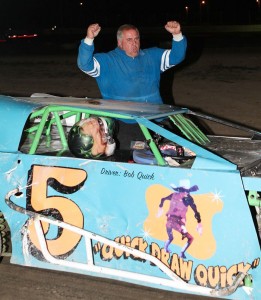 Quick led all 20 laps to win the Mini-Mods Shootout, making up for Friday's season championship race when he got caught in Jones' accident that led to a 13th-place finish.
"I had to call my dad and tell him how we did … he was pretty happy," Quick said, as his father Bob, 78, was back home in the Cottam area, too ill to make the trip to South Buxton.
Quick, 51, put a new paint scheme on his Mini-Mod last week in tribute of his father, with the No. 5, colours and logo from the 1935 Coup he ran at Ridge Raceway in 1969.
"This was really special to win tonight with this on the car for my dad … it's pretty emotional," Quick said.
Chatham's Tim Mackenzie was second, followed by Sorrell, Merlin's Steve Shaw Jr. and Windsor.
Jones finished 11th in the Shootout after a spin on lap 16 while running fourth.