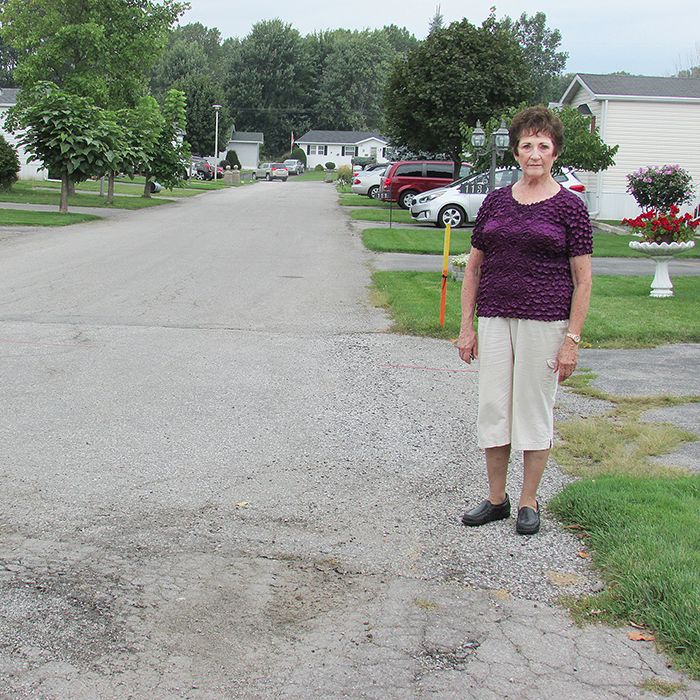 Elaine Meloche stands next to a section of crumbling pavement in St. Clair Estates.
A mini-army of residents using walkers, wheelchairs and scooters filled a portion of the WISH Centre Sept. 25 demanding upgrades to streets in St. Clair Estates.
Residents of St. Clair Estates are "cautiously optimistic" that they may have some action on their concerns about deteriorating roads in the modular home development.
Elaine Meloche, who with her husband Wally were booked for a hearing before the Ontario Tennant and Landlord Board, said more than 150 people showed up to take part in the hearing.
"They just kept coming and coming," she said. "The security person at the board told me he'd never seen so many people at a hearing this way."
Even though the Meloches withdrew their complaint moments before the hearing, she said they are hopeful the problem may be resolved.
"We didn't have a lawyer – we didn't know we needed one – but the board counsel told us that we could only speak to our own specific issues," she said. "Our complaint is about roads throughout the property and we weren't going to be able to proceed the way we wanted, so we withdrew. It turns out that if we had proceeded and lost, it might affect everyone's right to complain."
In a private meeting with owners' representative Mark Zartarian, Meloche said Zartarian pledged to open a dialogue with the tenants' association.
The association met Monday night for its annual election of officers and to plan how to negotiate with the owners.
"We finally have their attention," she said. "Until now we couldn't even get them to return our phone calls. I truly believe the owners thought no one would show up. They looked shocked out of their skin."
She said she felt "a little intimidated" at the hearing. "I don't have experience at this but we didn't know what else to do," she said.
Meloche said since there are no sidewalks in St. Clair Estates, residents have to walk on the roads.
In June Meloche said she suffered a bad fall when she stepped into some loose gravel used to patch a pothole.  "I went down hard, split my arm badly and got some pretty good bruises.
"After I fell, I was told the roads would be replaced this fall, but apparently the estimates were too expensive so they've been out patching some spots," she said. "There are literally hundreds of places to fix."
Meloche said when she moved to St. Clair Estates, she thought it would be a good place to take her daughter, who uses a wheelchair, for walks.
"It's difficult to find any stretch of level pavement," she said. "It's a patchwork of potholes, crumbling pavement and bumps."
The problem is even worse in the winter when the low spots freeze and become icy and treacherous.
She said the roads haven't been replaced in the decade she's lived there. Long-time residents have told her major work has only been done on the roads once in the last 20 years.
Meloche estimates 75% of the area's residents are seniors.
"When you're older and you fall, the complications are much more serious than when you're young," she said.