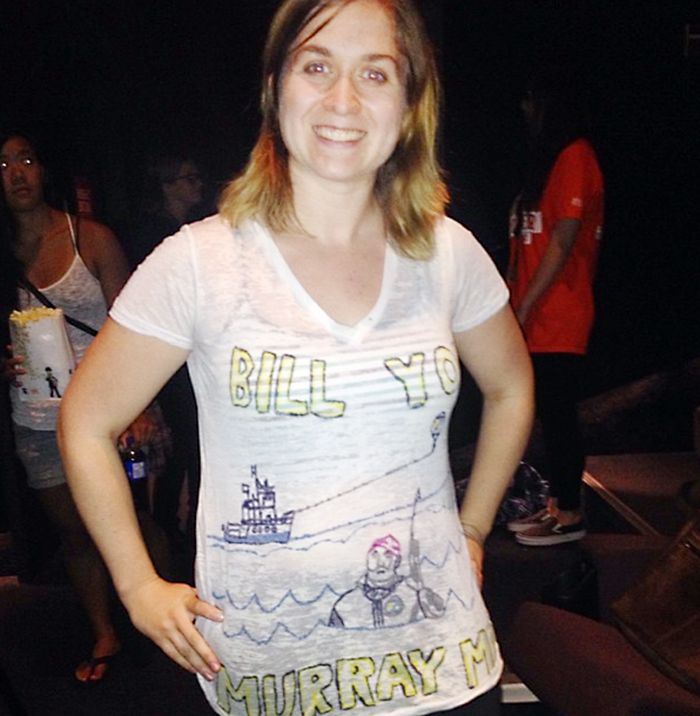 Thamesville native Caitlyn Weaver nearly pinched herself Sept. 6.
"When I woke up the next morning, I thought, 'Did that really happen yesterday?'" she said of her close brush with legendary actor Bill Murray, a photograph on independent filmmaker The Weinstein company's social media page, and an interview with the Toronto Star.
Weaver brought it all on herself. The film buff had planned on attending as much of the Toronto International Film Festival as she could around her work schedule. But when she learned TIFF organizers had declared Sept. 5 Bill Murray Day, everything changed.
"I was notified about a week prior that TIFF announced Bill Murray Day. He's not in Toronto very often," she said. "I booked the day off work and contacted one of my really good friends who is also a Bill Murray fan."
Weaver, who lives in Richmond Hill, set about creating a memorable shirt to mark the occasion.
"I went on the Internet to look for something," she said, coming across the saying, "Bill You Murray Me?" She did not find any T-shirts with that saying for sale, so she decided to use that slogan on her shirt.
But Weaver wasn't done there. She drew an homage to Murray's movie "The Life Aquatic with Steve Zissou" on the front of the white shirt as well.
The day arrived – with Weaver still asleep.
"I actually slept in. I had stayed up too late making my Bill Murray T-shirt," she said.
But living close to a Go Train station has its advantages and she was able to get to the TIFF site to pick up free tickets to see three classic Bill Murray movies that day, "Stripes," "Groundhog Day," and "Ghostbusters."
After "Stripes, Canadian director Ivan Reitman, who directed "Stripes" and "Ghostbusters," popped out on stage.
"That's when they made the announcement that Bill would be showing up after 'Ghostbusters,'" Weaver said. But with the notoriously go-his-own-way Murray, you never know if he'll actually be someplace until you see him.
As fans waited, many of whom were dressed in homage to Murray, a representative approached her from the Weinstein Company for a photo of her in her Murray shirt.
And then a Toronto Star reporter wanted to ask her a few questions.
Still, would Murray show? Sure enough, he did.
"When he came out, the crowd just shut up and stared," Weaver said. "He was funny, charming and everything that we want him to be."
She got Murray to sign her shirt, and won tickets to the premiere of his new movie, "St. Vincent," which aired later that night.
All in all, it was a dream day for Weaver, a movie buff and serious Bill Murray fan.
"I'm a longtime fan of his movies. My father (Pat Weaver) showed me 'Stripes' at a young age," Caitlyn said.
No stranger to the TIFF scene, she said she plans on returning in the future.
"TIFF is a very fun environment. The streets are closed off. Everyone's very fun and polite. I try to come down as much as I can," she said.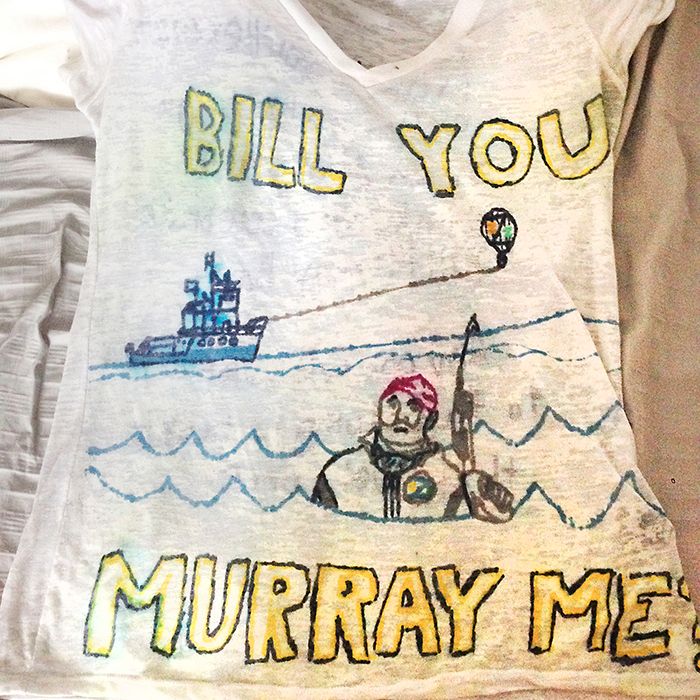 Comments
comments