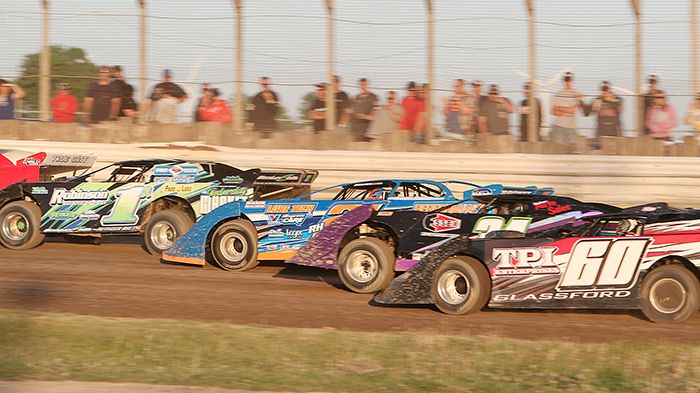 Chatham's Jim Jones and Leamington's Joel Dick will both have front-row starting positions to defend their season championship race victories Saturday night at South Buxton Raceway.
Jones won the 2013 Westside Performance Plus UMP Late Models championship race, the second of his career and first since 2004.
The veteran driver took the lead with two laps to go when the fuel pump belt fell off the leader Dale Glassford's car.
Jones and Glassford will start on the front row on Saturday as the 2014 points title is also on the line between the two drivers.
Glassford carries a slim two-point lead over Jones as the points accumulated in the heat, pursuit and championship races all go toward the finals standings.
Glassford, from Ridgetown, won the 2009 points and championship race and tied with Chatham's Brad Authier for the 2010 points title.
Jones' lone points title came in 2004 when swept the two majors.
Authier, an eight-time track champion and three-time championship race winner, will start in the second row with Chatham's Gregg Haskell, the two-time reigning points champion.
Dick's victory last September was a little less dramatic, as he led all 30 laps to win his second Schinkels Gourmet Meats UMP Modifieds championship race in three years.
He also led all 30 laps to win the 2011 championship race.
Dick has already clinched the 2014 points championship as he takes a 109-point lead into the night over Belle River's Mario Toniolo. The maximum points a driver can accumulate in one night is 105.
Dick has dominated the Modifieds this season, winning the first five features in May and finished with a total of 10 victories and 21 checkereds in total.
Toniolo has enjoyed his finest season in his 10 years in the Modifieds, winning his first career checkered on Aug. 30 and has been second in the standings since Week 2.
Shrewsbury's Jim Dale Jr., an eight-time track champion and eight-time championship race winner, will start in the second row.
The heat race will determine the other second-row starting position between Merlin's Jeff Daniels and Chatham's Brian Speelman, who are nine points apart going into Saturday.
The Modifieds will not run a dash on Saturday, since the championship race is lined up by points.
The Tirecraft-sponsored Sport Stocks and Mini-Mods will run their regular races, leading up to their championship night on Sept. 20.
Chatham's Eren Vanderiviere takes a 60-point over Merlin's Steve Shaw in the Sport Stocks, looking for a fourth consecutive division championship.
Blenheim's Trevor Jones has gone from 22 points down after the Aug. 2 race night to an 81-point lead over Cottam's Rob Quick, looking for his first career points title points with two race nights remaining.
The Autotech Bombers will not run this Saturday. Their regular season wrapped up last Saturday with Blenheim's Jeff Schives win the championship race and season points title.
The grandstand opens at 5 p.m. and racing starts at 7 p.m.