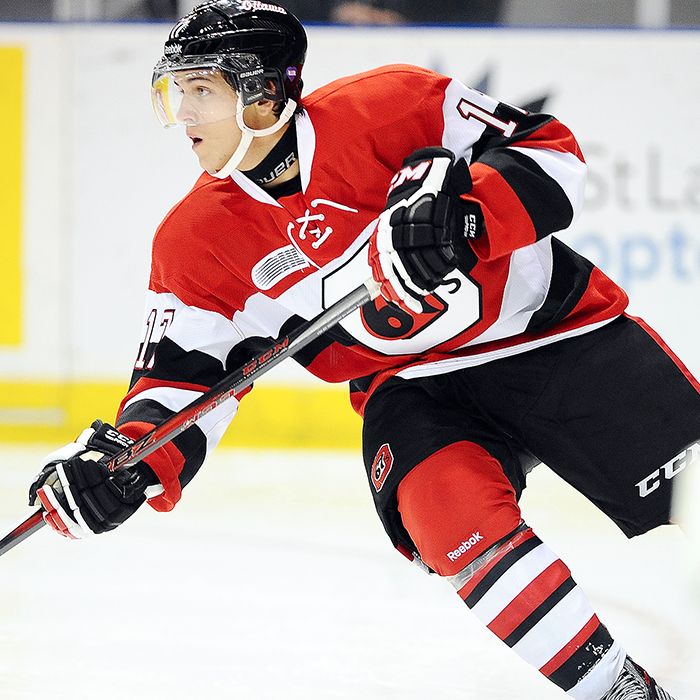 By Ian Kennedy
When your resume refers to you as the reigning OHL rookie of the year, and the captain of Team Canada's U18 gold medal winning team, a new hockey season will come with expectations. Throw into the mix it's your NHL draft year, and those expectations will go sky high.
Welcome to Travis Konecny's world.
Konecny, a Chatham-Kent Cyclones alumni from Clachan, Ont., was the Ottawa 67s leading scorer last season after being selected first overall by the team; now, Konecny is hoping to become a first round NHL pick after this season.
"For me that would be a goal to be drafted," said Konecny, although the budding superstar isn't looking too far into the future. "Personally, I just want to take things one step at a time – training camp, early season, and build toward playoffs. I'm just going to play the way I can and let things fall into place for the draft."
Konecny scored 26 goals and 70 points as a 16-year-old rookie last season, and turned even more heads this summer, captaining Canada to a gold medal at the Ivan Hlinka Memorial Tournament.
"It's what every kid dreams to play for Canada; to be able to put on the maple leaf is very special," said Konecny about playing for Canada at one of the most scouted tournaments in the world.
"To be honoured to wear the 'C' is something I'll never forget. It's pretty special, and has a lot of meaning to play and have the pride to compete for Team Canada and win gold."
Despite the accolades Konecny has garnered this year, he's slated as a mid-first round prospect for next spring's NHL draft, in part because of the hype surrounding Connor McDavid and Jack Eichel, the top two eligible prospects.
With expectations high, Konecny sees the 2014-2015 season not as a pressure filled situation, but rather, a chance to step up and prove his supporters right.
"I don't think of it as pressure, I just like to think of every season as another, and take it one game at a time, and improve," said Konecny. "I like to focus on each step, and doing what I can for my team, and the draft will work out when the time comes."
So what can a projected first round NHL draft pick, captain of Team Canada, and rookie of the year improve upon?
"Personally I'd like to become more of an all around player, focus on taking care of my own zone before I turn on my offensive mindset," said the skilled forward, who was also the Alliance Hockey Player of the Year, and captain of Canada's U17 team before lighting up the OHL this season.
"I think as a player on the ice, I have good vision and a good shot. For things to work on, I'm still working to improve my defensive zone coverage. I've improved a lot, but in some areas I can continue getting stronger."
Although he's still one of the younger players in the league, Konecny showed he has what it takes to be a leader while captaining Canada. Now, he hopes to bring those qualities back to the Ottawa 67s to help his team develop while he showcases his own skills to the world.
"I love to compete, I love being a leader. I know I'm young, but I can be a leader by making sure I go in there and work hard for the team, and compete every game."
In Konecny's eyes however, it's not just competing. As he becomes one of the OHL's top players, he wants his 67s to be one of the OHL's top teams.
"I want to make sure the team does well, and have a nice playoff push," said Konecny. "Last year we were a developing team, but this year we strive to climb into the league's top teams and be a team to beat."