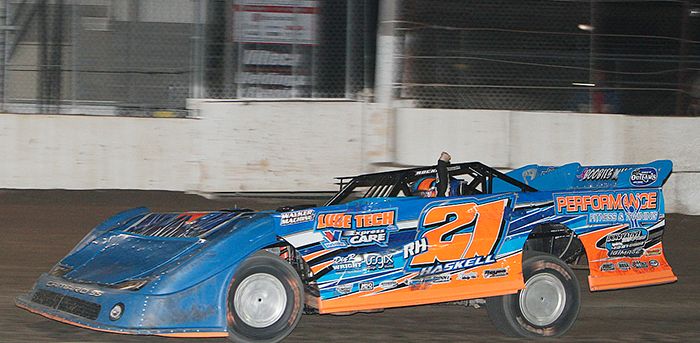 Nine years separated Kyle Patrick from his first and second career feature wins at South Buxton Raceway.
It only took three weeks between wins number two and three.
The Tilbury native picked up his first career wingless victory in the Ontario Topless Sprints feature race on Saturday night at South Buxton.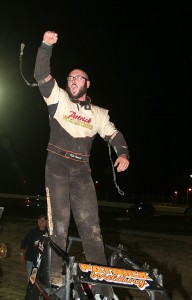 It was actually back-to-back wins for Patrick, who hadn't been behind the wheel of his No.33K Tilbury Tornado machine since his Aug. 2 Southern Ontario Sprints victory at South Buxton.
"That stat kind of rattled me a little bit, I had no idea it had been that long," Patrick said, after being informed of the nine-year drought between wins in his post-race track interview.
"Being the stubborn bull that I am, I went back and looked it up and … holy cow, it was that long!" he said, with a smile.
Patrick said work has been so busy at the family-owned Patrick Welding business, he had to skip the last two race nights at Ohsweken Speedway, where he was fourth in the Corr-Pak Sprint standings earlier this month.
"But it really didn't skip a beat despite sitting idle the last couple of weeks," he said of his car.
"The guys did a great job setting it up, and I'm getting more comfortable every time out," Patrick said of his fourth experience racing without the familiar sprint-car wing.
And just like his SOS victory earlier this month, when he made a dramatic two-car pass in one turn to take the lead, Patrick pulled off another brilliant move to go from third to first in Saturday's OTS victory.
He was running third on a restart on lap four and got by St. Thomas's John Watson for second coming out of turn two.
Patrick battled Lefroy's Warren Mahoney wheel-to-wheel for the next five laps before finally taking the lead.
"He had the line I wanted, I had to make do with where I was at," Patrick said of his battle with Mahoney.
"I was getting more comfortable and was able to put some slide jobs on him getting into (turns) three and four," said Patrick, who took the lead by running the high line around turn three and cutting under the leader coming out of four.
"He gave me one whale of a fight on the high side but I finally made one stick.
"Once I was able to get up in his line, I knew we were going to be pretty darn good," Patrick added, as was unchallenged over the final 16 laps to pick up his third career South Buxton win.
Joe Bares, of Grand Rapids, Mich., got by Mahoney with three laps to go but had to settle for a second-place finish behind Patrick, a reversal of the June 15 OTS feature.
Watson finished fourth and Port Stanley's Chris Durand was fifth.
Only eight of the 11 cars on hand Saturday started the feature, as a wild double-rollover crash three laps into the second heat ended the night early for Chatham's Tyler Hendricks and Newmarket's Dick Mahoney.
Patrick also won his heat race on Saturday night as he finished with a total of four checkered flags, three second-place finishes and a fourth in his eight total races at South Buxton this summer.
In South Buxton's regular classes:
Merlin's Joe Brosseau won his second straight feature in the Schinkels Gourmet Meats UMP Modifieds.
Brosseau, who won on Aug 9 before last week's rainout, was running points for Wheatley's Justin Mills, the second time in two years he has won a feature with Mills' No. 6M on his panels.
"It makes it looks it easy when you start up front," Brosseau admitted, as both wins came from front-row starting positions.
Unlike his Aug. 9 victory – a race that had 10 cautions, and saw only one green-flag run as long as four laps and was eventually cut short 10 laps by the by the time limit – Brosseau actually had to race to earn Saturday's win.
"It was nice, you had to be focused and clean air played a big part," he said, as Saturday's race only had three cautions.
"The restarts with Mario (Toniolo) were fun … it was definitely one of most fun races of the season."
Belle River's Toniolo, Clayton Smith of Taylor, Mich., Leamington's Joel Dick and Merlin's Jeff Daniels rounded out the top five.
Merlin's Eren Vanderiviere won his fifth Tirecraft Sport Stocks feature of the year, padding his lead to 62 points over Merlin's Steve Shaw, who finished fifth.
It was Vanderiviere's first win since his mid-season championship victory on July 12.
"We've been struggling all year with the set-up, we can't find the set-up we had last year," he said of his nine-feature and 21-checkered season.
"Even tonight, the car didn't seem that good in the heat race but we were able to get a good run on the bottom," said Vanderiviere, who passed Essex's Doris Lajeunesse for the lead with nine laps to go.
Kingsville's Rob Young finished third and Grande Pointe's Tyler Lozon was fourth.
Cottam's Rob Quick also picked up his fifth Tirecraft Mini-Mods victory, one week after a big hit into the turn four wall in a heat race that severely damaged his car.
"We actually got the car back better than what it was," Quick said, as his crew worked on the car until 4 p.m. Saturday after four sessions during the week that lasted until 3 a.m.
"I was stiff all week … I don't want to do that too many times, this body can't take that," he said of the hit, with a laugh.
Quick was able reduce the deficit to 21 points behind Blenheim's Trevor Jones atop the standings. Jones finished second in the feature and both drivers won their heats.
Blenheim's Kyle Hope, Chatham's John Pinsonneault and Kingsville's Larry Hart rounded out the top five.
Blenheim's Austin Pickering took advantage of a late caution and went on to post his first career feature win in the Autotech Bombers.
Chatham's Brandon Ardis, who led the first nine laps before the caution, finished second, followed by Chatham's Chris Ellerbeck, Blenheim's Shawn Hope and Windsor's James Beaulieu.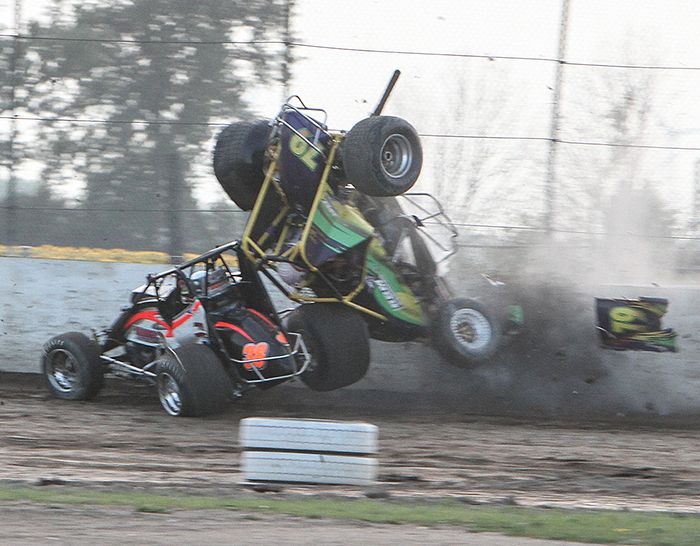 Comments
comments