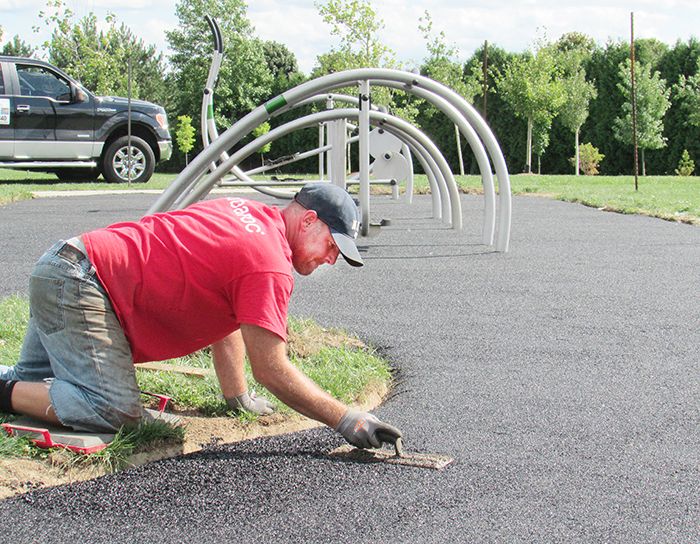 Rob Reeve of Southwest Safety Surfacing levels off a layer of Rubaroc, a compound made of recycled rubber, on a walkway leading up to where new outdoor fitness equipment is going in at Kingston Park. The equipment should be open to the public later this week.
Kingston Park has its splash pad, walking trails, multiple play sets for the kids, toboggan hill, picnic areas, and more.
But now the "more" includes outdoor fitness equipment.
LEADWAVE Technologies from Chatham Voice on Vimeo.
Deb Veccia, supervisor of parks in Chatham, said the equipment is going in as a partnership between the municipality and the Chatham-Kent Public Health Unit. The health unit is covering the cost of the apparatus, while the municipality pays for the surfacing below and around it.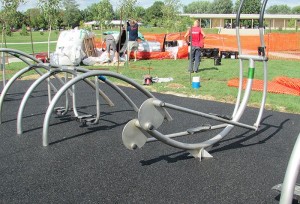 Total price for the project is about $50,000.
The equipment, located near the middle of the park, could be available for use by the public as early as later this week.
Veccia said there is really no reason to sit still at Kingston Park.
"This came out of an initiative driven by the health unit to try to promote healthy, active families. They approached us last year," she said. "This fits nicely into the overall theme of Kingston Park – 'Move, Splash, Explore.' This is part of the 'Move.'"
The equipment is designed in three pods. There's one for cardio/aerobic workouts, another for strength, and one for balance. There is a mix of equipment for adults and children, Veccia said.
And it's high-tech.
"Each piece of equipment is smartphone ready. If you put your smartphone in it, it will keep track of your fitness progress," she said.
There are also QR codes on the equipment, so people can scan the codes and access videos on how to properly use the apparatus.
The devices are stainless steel, Veccia said, so they are very low maintenance, and there are no external moving parts. The equipment is manufactured by a company called Norwell.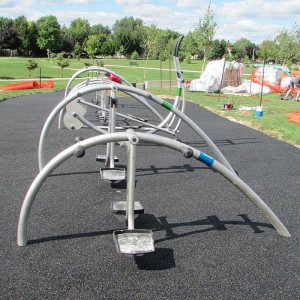 "The equipment is out of Europe. It is just now breaking into the North American market," she said.
Its functionality and style fit Kingston Park, she said, alluding to the park's motto for the former, and pointing to the steel playground equipment for the latter.
"It's just a really nice addition to the park as a whole," Veccia said.
As for the surface below the equipment, she said it is Rubaroc, a compound made of recycled rubber.
"It gives them a nice, soft surface to use and to walk on. It's low maintenance for us; it's very neat and tidy," she said.
Veccia said the parks department will hold an official grand opening in the fall, and will have people on hand to explain the proper use of all the equipment.