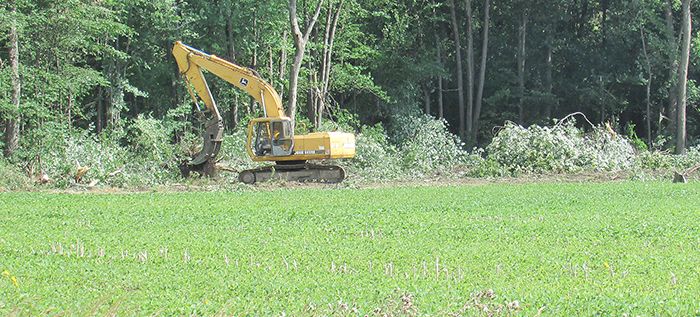 The day after Chatham-Kent council rejected consideration of a bylaw regulating woodlots, heavy equipment was brought in to clear a woodlot on Taylor Road near Ridgetown. Woodlot preservation supporters are pointing to the latest woodlot destruction as an example of why the municipality needs protection in place.
The ongoing refusal of Chatham-Kent council to enact a bylaw protecting the community's disappearing woodlots demonstrates either the power of political influence or a near-fatal lack of understanding of how laws work.
Either way, it's not good for Chatham-Kent.
Council as a whole last week rejected a woodlot conservation bylaw in favour of a "natural heritage implementation strategy," which is as impotent as it sounds.
Want to bulldoze every tree on your land? Go ahead, with council's blessing, because as the consultant's report on the issue reads in part "Chatham-Kent has shown leadership to … maintain and advance woodlands, wetlands and grasslands for over a decade."
Rubbish. The reason this issue is before council is exactly the opposite. We're one of only two communities in Southwestern Ontario without some type of protection.
Chatham Mazda from Chatham Voice on Vimeo.
Council went to great lengths to claim that only 1% of landowners aren't good stewards of the land but couldn't connect the dots after that.
We don't have laws for the people who obey them – we have laws for those who don't.
Most people don't drink and drive – we have laws to stop those who do.
Most people don't' steal – we have laws to stop those who do.
Most people don't spill toxic waste into waterways – we have laws to stop those who do.
Most people realize our environment needs to be protected. Not our elected officials in Chatham-Kent.
One premise of law is that it is enacted for the common good.
What's more common than the air we breathe and the environment we share?
The fact that some of our leaders can head into this autumn's election with the belief they have agricultural groups in their pocket is appalling.
They may find out that the 99% who aren't on the radical fringe don't like being lumped in with the 1%-ers. They may also find out that "tree huggers" vote too.