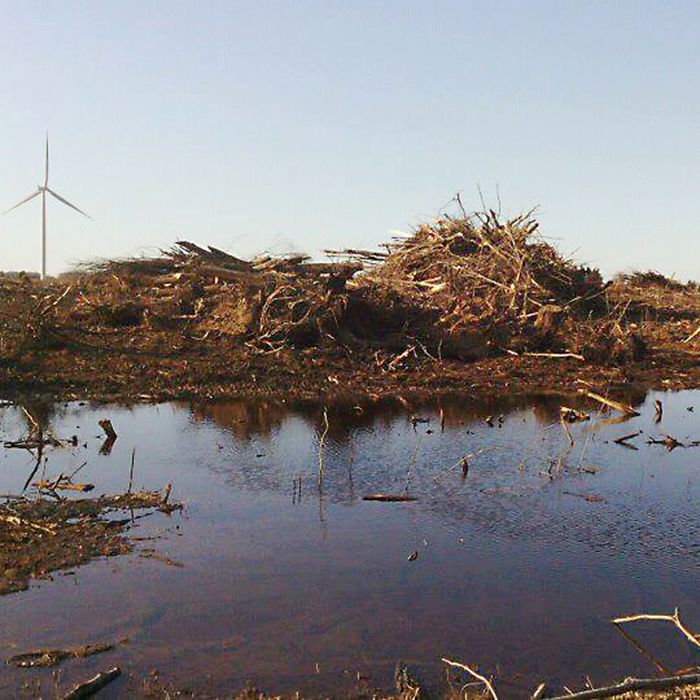 Those upset at a proposed Chatham-Kent policy on woodlot protection are barking up the wrong tree, according to the municipal manager responsible for bringing the document forward.
Tom Beaton, C-K manager of parks, cemeteries and horticulture, said he's simply following council's direction in developing the policy that will be the subject of a public meeting July 2 from 6 to 9 p.m. at Memorial Arena in Chatham.
Chatham Mazda from Chatham Voice on Vimeo.
The CK Woodlot Preservation Group has sent an open letter to C-K council deriding the Chatham-Kent Natural Heritage Implementation Strategy. To read the letter, click here.
"Council has directed that a policy be prepared and that's what we're doing," Beaton said. The 78-page report, prepared by the consulting firm of Jennifer Lawrence and Associates, cost $10,000.
"The public health unit found the money for the study and I can tell you there is more than $10,000 in work which went into it," he said.
CK Woodlot group spokesman Ken Bell said the report demonstrates a wide gap between the municipality's words and actions.
He said the document contains language which may mislead the public into believing the municipality is acting to protect trees and the environment.
"There is absolutely nothing in this strategy which would prevent the continued clear cutting of any woodlot in the municipality. In terms of protection, there is none."
Bell, whose group has lobbied council for a bylaw to regulate tree cutting, said statements in the report left him incredulous.
On page six of the report is the statement, "Chatham-Kent has shown leadership in the effort to maintain and advance Woodlands wetlands and grasslands for over a decade."
"How can anyone with any knowledge of what happened here say we've been a leader when more than 1,500 acres of woodlots has been clear cut and burned while council refused to act? Even someone driving along the 401 can tell we don't value our woodlands," he said.
The document also notes "Chatham-Kent has opted for a policy rather than tree cutting bylaw." There has, as of yet, been no vote on the prepared Forest Conservation Bylaw, Bell said.
He said he has no problem with having a strategy and applauds some of the recommendations in the report, such as expanding the eight-year-old Greening Partnership with the Lower Thames Conservation Authority.
The LTVCA would hire two individuals to access private and government grants, work with landowners and develop education programs.
Beaton said he personally believes the community would be best served with a policy and a bylaw but that is council's decision.
"I certainly believe there is room for both, but we are working with council's direction which is to use a less confrontational approach," he said. "Those who want a bylaw certainly have the right to pursue that politically, but that isn't the task we've been given. I just wish those who want the bylaw would work with us, not against us."
Wallaceburg Coun. Sheldon Parsons brought forth a motion in March of last year seeking a six-month moratorium on clear cutting while the idea of a bylaw was discussed.
Voting for the bylaw were Parsons, Bob Myers, Anne Gilbert, Michael Bondy, Art Stirling, Derek Robertson, Doug Sulman and Marjorie Crew.
Against were councillors Joe Faas, Jim Brown, Karen Herman, Brian King, Bryon Fluker, Leon Leclair, Steve Pinsonneault, Frank Vercouteren and Mayor Randy Hope, whose vote resulted in a tie, defeating the motion.
Wallaceburg Coun. Jeff Wesley declared a conflict of interest on the basis the matter could have impacted his employer, Union Gas.
Bell said he believes the report seems to distance Chatham-Kent council from making a decision on the issue.
"We don't need council hiding behind a report and saying, This is what our consultant told us,'" he said. "We need leadership on this issue now just as we needed it before the clear cutting. We couldn't even get the mayor to vote to allow a moratorium on clear cutting so we could study the issue."
In an open letter to council, the group writes: "It's understandable that a vote on a forest protection bylaw, by mayor and council, would have a degree of political risk, however, that's why we pay them."
Beaton said the three-year pilot project with the Lower Thames is an excellent idea.
"We need to work on education," he said. "There are already signs that the clear cutting has abated. We've only documented an additional 250 acres cut since the initial 1,500, so perhaps it's working already."
Bell said his group will provide council with a petition seeking a bylaw.
"We haven't decided when we will present it, but we have more than 5,500 signatures. This is going to be an election issue."