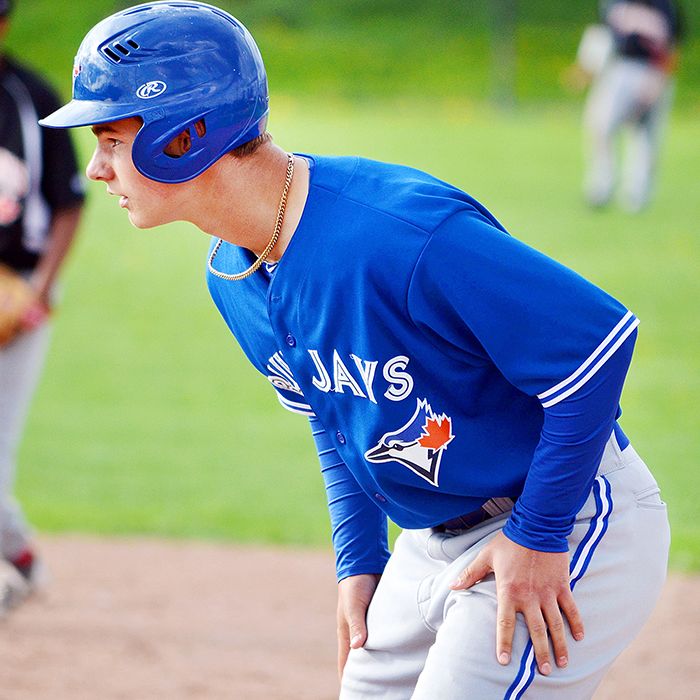 It wouldn't be a stretch to assume an athlete competing on a new team, and at a new position would struggle to adapt, or fail altogether.
That assumption couldn't be farther from the truth for Kent Bridge's Luke Van Rycheghem, who is shining this season, albeit in a new environment, with the Ontario Blue Jays 16U baseball team.
Van Rycheghem played last season with the Windsor Selects, and has attended multiple national championship tournaments with various teams. This summer he chose to make the trip down the 401 and switch from his traditional position as a pitcher and third baseman, to have the opportunity to play with the Blue Jays, considered one of Canada's top developmental organizations.
"What drew me to this team was how elite their baseball program is," said Van Rycheghem of the Mississauga-based Ontario Blue Jays organization, who saw seven players selected in this spring's MLB First-Year Player Draft. "They have amazing coaches and go in high-class tournaments which maximizes exposure."
Chatham Mazda from Chatham Voice on Vimeo.
At 6-foot-2, 205 lbs., Van Rycheghem is an athletic specimen who throws right and bats left. His size and strength were attractive to the Blue Jays organization, and were part of the reason his new coach decided to try the Ursuline College student, who just completed Grade 10, as a catcher.
"Luke is a big, physical left-handed hitter with the ability to drive the ball to all fields," said Sean Travers, Ontario Blue Jays director of player development and head coach of the 16U Blue Jays White team.
"When we first saw Luke, we thought catching may be his long-term position," continued Travers. "He is built like a catcher, has a strong arm and hits left handed. That's a pretty good combination."
The former Chatham Diamonds star has put up good numbers this season in the Premier Baseball League of Ontario, and has big goals for his future, but is taking things one step at a time.
"This season I am hoping to tune up on the small things and grow as a player to make me better," said Van Rycheghem. "I also want to play for the Junior National team."
His goal of playing on the Junior National team is not out of reach, as he's been one of the most sought after players in Ontario in recent seasons for teams looking to stock up prior to the national championships. According to his coach, Van Rycheghem will be a player to watch at many levels for years to come if he continues to develop as scouts predict.
"He will be a very good college player and with a lot of hard work he may get a chance to be a pro," boasted Travers of Van Rycheghem. "There is a lot to work with."
Although Van Rycheghem has put in countless hours to improve and get stronger, he also came by his skills naturally, as his older brother Mark also plays in the Blue Jays organization, for the Ontario Blue Jays 18U Red team.
"Growing up with my brother led me to where I am today," said Luke of the impact his brother Mark, a first basemen, has had on his playing career. "He encouraged me to be the best I can be. He pushed me to get better and was always there for me. He also taught me many things about the game."
With big dreams of the NCAA and MLB in sight for Luke Van Rycheghem in the near future, for the time being he's simply enjoying the game of baseball, and the opportunity he's found to play with the Ontario Blue Jays.
"What I love most about playing baseball is the feeling I get when I'm on the field," said Van Rycheghem. "It's indescribable. When you get a nice hit or make a nice play, it's the best feeling in the world."
Comments
comments