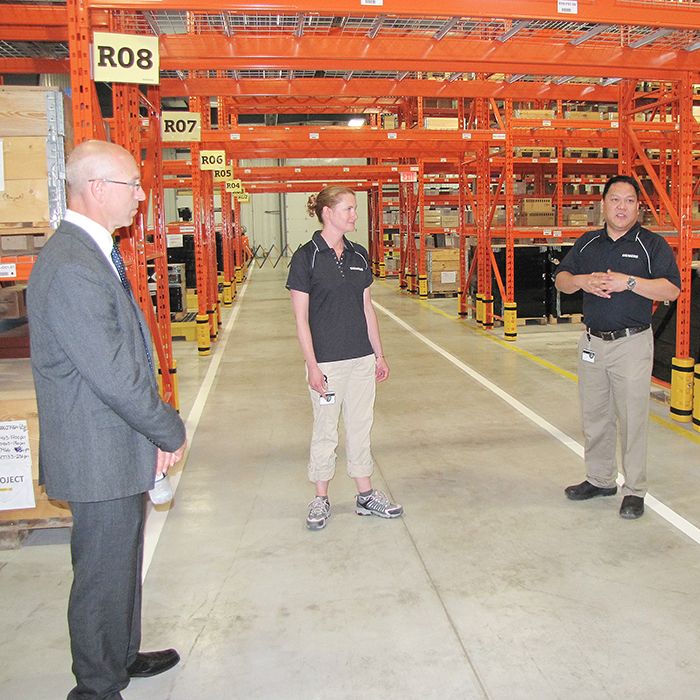 Chatham is now an important hub of activity for the wind business of Siemens Canada.
The company chose Chatham to be the home of its wind turbine training and distribution centre.
An official opening for the 12,000-square-foot facility on Grand Avenue East took place June 18.
Chatham Mazda from Chatham Voice on Vimeo.
In addition to serving as a parts warehouse, other uses include providing tooling to maintain and retrofit the company's fleet of wind turbines.
"We've got a solid business in Canada right now," said Jim Trojner, general manager of wind service for Siemens. "We're actually growing; we've got a huge business growth in front us."
According to Trojner, Siemens has more than 650 turbines installed across Canada and another 300 are under construction.
The company has turbines in Ontario, Manitoba, Saskatchewan and Alberta.
There are also plans to add Quebec to the mix.
Trojner said it all started in Chatham, which played a part in the company's decision to build the distribution centre here.
"This is where our first installation went in; this is where we have most of our equipment, so it only felt right that we needed to put our distribution centre in here," he said.
Trojner also cited good access to highways and airports as other reasons.
The centre will also provide training for wind service technicians, vendors and Siemens' customers.
The educational support includes basic service, annual electrical training and climbing and rescue training.
Fifteen people work at the centre and another 10 could be added within the next year as the company plans to add another bay to the building.
Across the country, 115 people are working in wind service for Siemens. Trojner said the number is set to grow to 175 next year.
While the number of local jobs may sound small, Chatham-Kent Mayor Randy Hope, who was on hand for the official opening, said they are high-quality, good-paying jobs.
"When we talk about long-term jobs and diversification of industries in our community, this is a prime example of what we need," said Hope, referring to the 20-year contracts of most of the turbines.
He also praised the opportunity to host the training centre for the company.
"These are qualified individuals that go through extensive training. It allows us the future opportunities to work with our post-secondary education to create an institutional hub that supports the industry," said Hope, adding that he expects to see more local job announcements from the wind industry in the near future.
Comments
comments