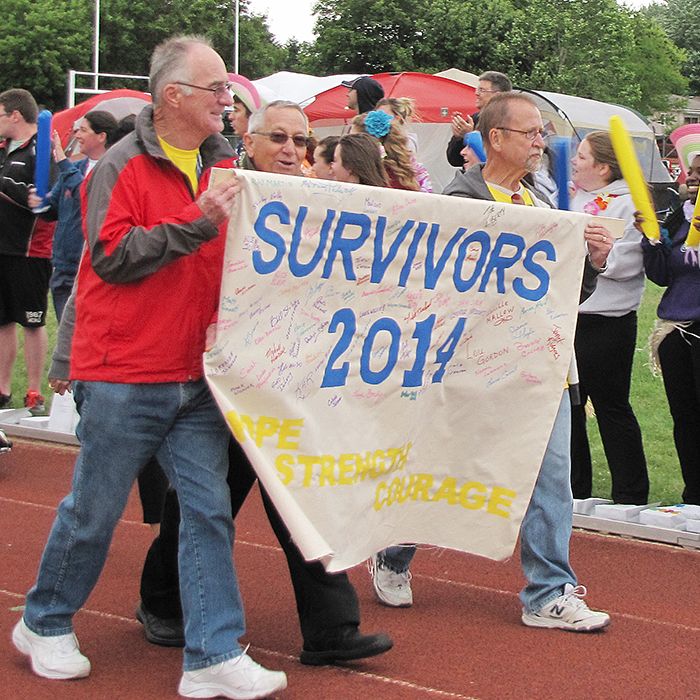 A smaller group came through in a big way for the Canadian Cancer Society.
The Relay For Life held Friday and Saturday at the Chatham-Kent Community Athletic Complex raised $187,000, matching last year's total with 19 fewer teams.
"I'm so appreciative of the incredible effort of the participants in this year's Relay For Life in Chatham," said Bruce Corcoran, chairman of this year's relay.
Chatham Mazda from Chatham Voice on Vimeo.
The 12-hour event brings people together in a festival-like atmosphere to celebrate life and fight cancer.
Teams gather with cancer survivors and take turns walking laps all night.
"Such a large-scale event isn't possible without an incredible effort from volunteers," said Corcoran. "From our amazing committee members to the folks who manned the information tent and various activities through the wee hours of the night, they are incredible."
Collette Johanson, who was diagnosed with breast cancer in February, was taking part in her first Relay.
Just minutes before taking to the track, the 43-year-old Chatham woman felt empowered by the event.
"It's all about being accepted and welcomed into a community," said Johanson, pausing as her voice broke with emotion during the short interview.
But she continued as her family and friends applauded and cheered her on.
In a small way, the moment embodied the relay's spirit.
"I'm happy to have my friends and family with me and I'm looking forward to doing this again next year," said Johanson, a member of the Gals and Pals team.
She was invited to join the group when her husband bought a luminary for her at RetroFest.
"I'm just meeting everybody tonight for the first time. It's a really special night," she said.
Chatham-Kent Police Chief Dennis Poole spoke on behalf the cancer survivors during the opening ceremonies.
Poole, a three-year survivor, battled kidney cancer.
He paid tribute to Sophia Vlasman, a 16-year old Chatham girl who lost her fight with cancer on June 6.
"She has indeed been an inspiration for us all, and has caused us to re-evaluate many aspects of our lives, to learn to live in the moment, and to love and appreciate each other and the precious time we have together," said Poole.
Pointing to the 100 people who were wearing the yellow "survivor" T-shirts, he said the group is a testament to the fact that cancer can be beaten.
Katie Amato, human resources manager for GreenField Ethanol, told the crowd this year's event meant more to the company and the team.
Shortly after agreeing to sponsor the event for a second year, the company learned that Chris Stanford, a maintenance manager, was facing esophageal cancer.
"His news hit home to me and to our whole company. The support that poured in for Chris and for the relay has been tremendous," said Amato.
The GreenField team raised more than $20,000, which was $8,000 more than last year.
She also noted that another, employee Diane Bruette, who won her battle with cancer three years ago, was walking with the team.
"Everyone has a story," said Amato, summing up the collective goal of the participants. "It's my hope that through the hard work and efforts of all the teams, volunteers, committees and generous donors supporting Relay For Life, one day we can say we made a difference in this world, and we put an end to cancer."