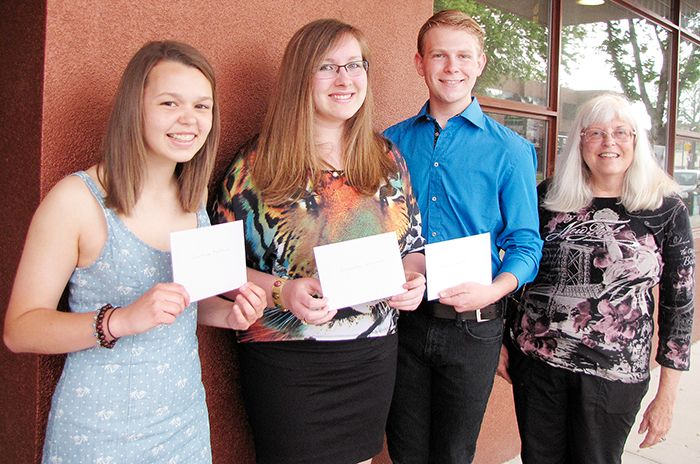 Future film students Courtney McAlorum, Samantha Ainsworth and Monty Langford were thrilled to receive scholarships from Connie Badour (far right), secretary of the Chatham-Kent Film Group. The group awarded each student a $1,000 scholarship for their film studies. The cheques were presented June 2 at the Capitol Theatre in Chatham.
The financial load for three future film students is a little lighter thanks to scholarships handed out by the Chatham-Kent Film Group.
The group awarded $1,000 to each of the students on June 2 at the Capitol Theatre just before the screening of "Great Beauty," an Italian film that took home the Oscar this year for Best Foreign Language Film.
The film group is a volunteer organization that aims to make more genres of film available in Chatham-Kent by screening Canadian, foreign and independent movies.
LEADWAVE Technologies from Chatham Voice on Vimeo.
The profits are used to sponsor scholarships for future film students.
"This year was an unusual year; we had a good profit plus we had three students that have already been accepted into film or media studies," said Connie Badour, secretary of the film group. "So we decided that we would award all three a scholarship."
"I'm extremely excited and honoured at the same time," said Monty Langford.
The 18-year old student from Chatham-Kent Secondary School plans to study media and business at the University of Western Ontario in London.
"Media and technology are growing in our society and I think it's important to start while I'm young," he said.
Samantha Ainsworth, another CKSS student, will be studying drama, media and film at the University of Windsor.
"I've known what I have wanted to do since Grade 4," she said. "I've always been interested in movies, and I've been set on films since I was really young."
The third recipient, Courtney McAlorum, is also headed to the University of Windsor.
The Ursuline College student plans to study communications and business with an eye towards law school.
"Copyright stuff is what I'm striving for," said McAlorum. "I really love media. It's a growing field and there is so much possibility with it."
Comments
comments